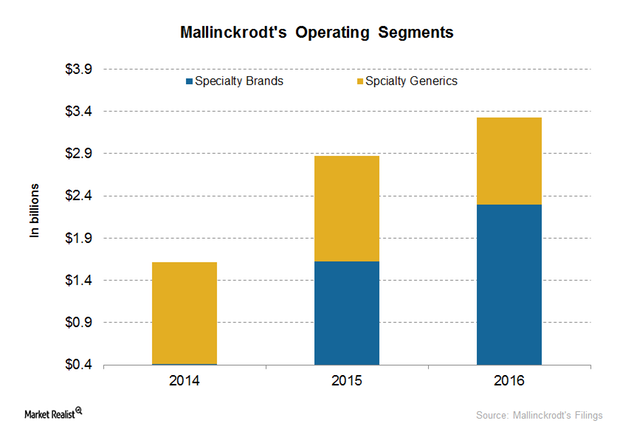 How Did Mallinckrodt's Specialty Brands Perform in 2016?
By Jillian Dabney

Nov. 30 2016, Updated 3:04 p.m. ET
Mallinckrodt's reportable segments
Mallinckrodt (MNK) operates in two reportable segments: Specialty Brands and Specialty Generics. Describing its reportable segments in its filings, Mallinckrodt's management mentions that the Specialty Brands segment includes "pharmaceutical drugs primarily for autoimmune and rare diseases, neonatal critical care respiratory therapeutics, immunotherapy and pain management."
The Specialty Generics segment is made up of specialty generic pharmaceuticals and APIs (active pharmaceutical ingredients). Specialty Brands had a 69% in Mallinckrodt's total revenue in 2016, while Specialty Generics had a 31% share.
Article continues below advertisement
Specialty Brands' performance in 2016
The key products in the Specialty Brands segment include Acthar, Inomax, Ofirmev, Therakos, and hemostasis products. In 2016, Specialty Brands managed to garner $2.3 billion net sales, reflecting a 42% rise.
Of this, net sales in the US jumped by 38% to $2.2 billion. The US being the major region had 97% share in the segment's total revenue. The segment's growth soared from the Inomax and Therakos immunotherapy acquisition.
Acthar, a key asset in Mallinckrodt's portfolio, grew by 12% and added $1.2 billion to MNK's top line in 2016. In 2016, Acthar had a 34% share in Mallinckrodt's total net sales. In the long run, MNK is trying to be less reliant on Acthar by gradually reducing the product's concentration.
Inomax, the company's second-largest contributor, managed to garner $474.3 million in 2016. Ofirmev and Therakos immunotherapy added $284.3 million and $207.6 million to Mallinckrodt's net sales.
Operating income for Specialty Brands
The operating income for the Specialty Brands stood at $1.2 billion in 2016. The operating margin for the segment expanded to 50.7% in 2016 from 39.3% in 2015. This margin expansion followed top line growth.
In the specialty pharma industry, Mallinckrodt competes with Valeant (VRX), Endo International (ENDP), and Teva Pharmaceuticals (TEVA). Notably, investors in the Vanguard Growth ETF (VUG) gain exposure to Mallinckrodt. VUG holds 0.06% of its total holdings in the company.
In the next part, we'll discuss the performance of the Specialty Generics business.