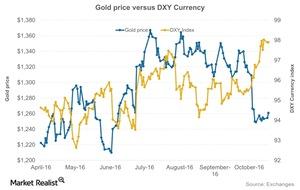 How Closely Does the US Dollar Track Gold?
By Meera Shawn

Updated
The dollar index and gold
The U.S. Dollar Index (or DXY), which measures the greenback against a basket of six major world currencies, fell 0.10% on Monday, November 28, 2016. The yield on ten-year U.S. Treasuries fell from a 16-month high of 2.4% that it touched last week.
If oil prices keep tumbling like they did on Monday, inflation numbers could be negatively impacted, which could also affect the rise of interest rates in the future. Together, these could negatively affect the US dollar.
During the past few weeks, the US dollar has been rising on prospects of a rise in the rate of interest offered on Treasuries. The US dollar rose ten consecutive days until November 18, 2016. However, it slowly weakened after that. The DXY closed at 101.0 on November 21, 2016.
Fluctuations in the dollar are a major determinant of changes in the prices of precious metals. Changes in gold and the US dollar are shown in the above graph. As you can see, they mostly have an inverse relationship. The higher the dollar, the lower the demand for dollar-denominated assets.
Article continues below advertisement
Correlation between the US dollar and gold
The correlation between gold and the DXY is -0.36, which means that about 36.0% of the time, gold and the dollar move in opposite directions. Silver's correlation with the DXY is -0.32.
These changes, based on the dollar, can also be seen in mining funds such as the iShares MSCI Global Gold Miners (RING) and the ETFS Physical Silver (SIVR). These two funds have seen massive year-to-date rises alongside precious metals.
Mining stocks that have rebounded include Sibanye Gold (SBGL), Gold Fields (GFI), Primero Mining (PPP), and Silver Wheaton (SLW).