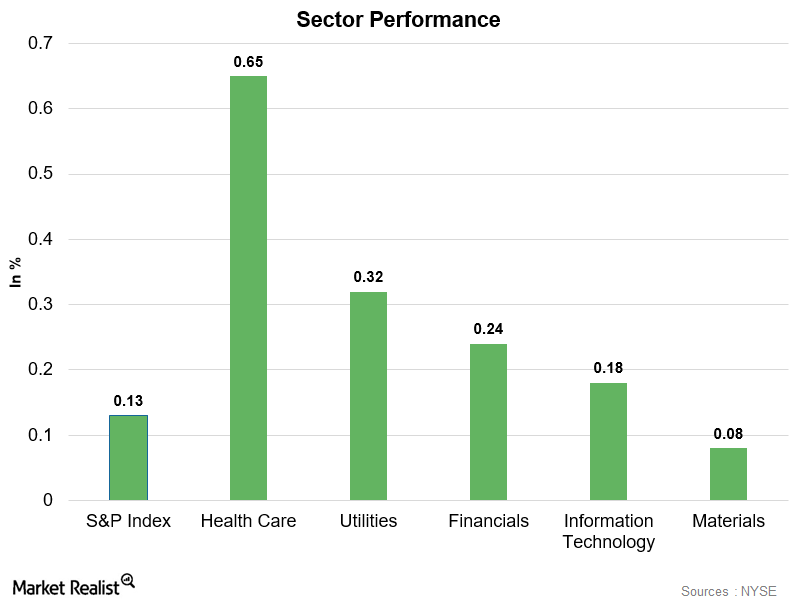 Health Care and Utilities Sectors: Best Performers on November 29
By Val Kensington

Nov. 20 2020, Updated 4:47 p.m. ET
NYSE sector performance
On November 29, health care was the best performing sector on the NYSE, while the energy sector was the worst performer.
Health care:
The health care sector rose 0.65% on November 29.
United Health Group (UHG), a major diversified managed healthcare company, rose 3.6% on November 29. United Health Group hosted its annual conference on November 29. It expects to generate $180.4 billion in revenue in 2016.
Read Diversification Is Key to AbbVie's Long-Term Growth Prospects to understand AbbVie's (ABBV) growth prospects.
Utilities:             
The utilities sector rose 0.32% on November 29.
NRG Energy (-2.1%) and Aes (-0.5%) are the bottom performers.
Southern Company (SO), a major utilities company, rose 0.02% on November 29. Nancy Sykes is the new executive vice president. She will join the executive leadership team on December 5.
Read Are Water Utilities Really a Smart Long-Term Investment? to learn about investing in water utilities.
Financials:         
Article continues below advertisement
The financials sector rose 0.24% on November 29.
Digital Realty Trust (DLR) (2.2%) and Host Marriott Financial Trust (HST) (2%) are the top performers.
Bank of America (BAC), one of the major stocks in the financials sector, didn't change on November 29. It rose ~23% since the presidential election amid expectations of easing regulations in the banking industry.
Read How a Rate Hike Could Impact Banks' Earnings to understand how a US interest rate hike could impact commercial banks.
Information technology:
Materials:
The materials sector rose 0.08% on November 29.
Praxair, the largest industrial gas company in North and South America, rose. Praxair reproached Linde for merger talks with a new offer of $60 billion.
Read What You Should Know as Vale SA Hits a 52-Week High to learn more about Vale SA (VALE)
In the next part, we'll discuss how the consumer discretionary, industrials, consumer staples, telecom services, and energy sectors performed on November 29.