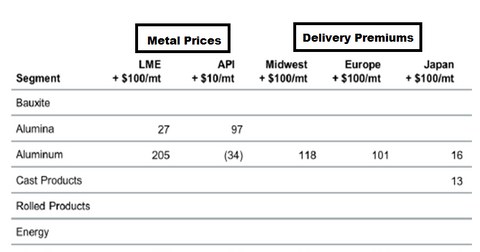 Has Trump's Election Raised the Bar for Alcoa and Aluminum?
By Mohit Oberoi, CFA

Updated
Aluminum prices
Alcoa's (AA) earnings are sensitive to commodity prices (DBB). The company expects its annual EBITDA (earnings before interest, tax, depreciation, and amortization) to rise $233.0 million for every $100-per-metric-ton rise in aluminum prices. EBITDA is expected to fall $233.0 million for every $100-per-metric-ton fall in aluminum prices.
Similarly, Alcoa's annual EBITDA is expected to rise or fall $63.0 million for every $10-per-metric-ton rise or fall in alumina prices. Other aluminum producers, including Century Aluminum (CENX), Rio Tinto (RIO), and Norsk Hydro (NHYDY), also have varying sensitivities to aluminum prices.
Article continues below advertisement
Prices have been strong
Commodities, including aluminum, have seen an upward price action after Donald Trump won the US presidential election. With that said, aluminum prices were gaining strength even before the election. Notably, sentiment in aluminum markets was quite subdued at the beginning of the year. But aluminum still managed to find strong support near the $1,500 per metric ton level in 1Q16.
The Chinese demand
As the year progressed, aluminum prices took support from better-than-expected Chinese demand, coupled with lower-than-expected Chinese supply. As aluminum markets seemed headed for a supply shortfall this year, $1,600 per metric ton became a strong support for aluminum.
Then Trump's election helped fuel a rally in aluminum prices, like most other commodities. Aluminum is now looking to breach the $1,800 price level. Aluminum producers such as Alcoa have settled at higher price levels, tracking aluminum market sentiments.
Along with an expected increase in US demand, several other factors are supporting aluminum prices. We'll look at them in detail in the next part of the series.