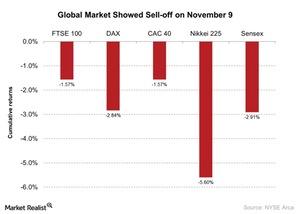 Goldman Sachs: What to Watch in 2017
US presidential election
On November 8, 2016, the citizens of the United States voted to elect Donald Trump as their next president. Before the announcement of the election's outcome, global markets showed huge sell-offs.
After the announcement of the election's outcome, S&P 500 futures (SPY) and Dow futures recovered some points, closing positively at the end of the day. However, other developed markets (EFA) and emerging markets (EEM) (VWO) closed on negative notes.
As global markets are still showing some nervousness, investors across the globe are worried about their investments in various asset classes.
Goldman Sachs (GS) recently shared its top recommendations for 2017 in various instruments across the globe in a note to its clients.
Article continues below advertisement
Goldman Sachs' views
According to Goldman Sachs, there will be volatility in the market in 2017. Many market participants believe Trump's win will provide a change in the economic environment for the United States (QQQ) (IVV).
However, according to Nobel laureate Paul Krugman, "A return to protectionism and trade wars would make the world economy poorer over time." Krugman said, "We are very probably looking at a global recession, with no end in sight."
Goldman Sachs has highlighted some of the instruments that could provide good returns in 2017, including the following:
positive stance on the US dollar (UUP)
long on emerging market stocks with "insulated exposure to growth" such as Brazil (EWZ), India, and Poland
long on 10-Year US Breakeven Inflation
long on the Europe Dividend Growth Index
In the next part of this series, we'll analyze Goldman Sachs's view on the US Dollar Index.