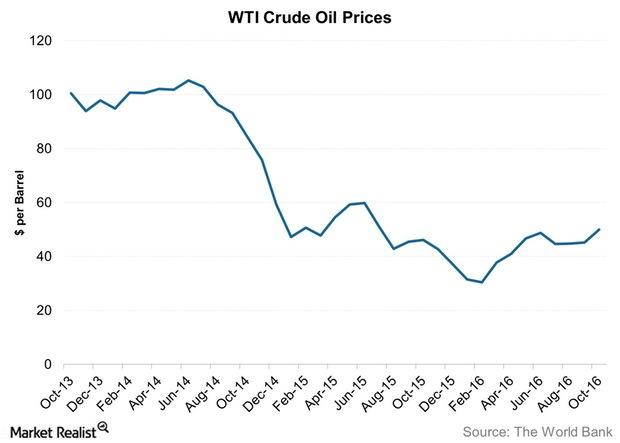 Why Goldman Sachs Looks Bullish on WTI Crude but not on Gold
By David Ashworth

Dec. 4 2020, Updated 10:53 a.m. ET
Bullish on WTI crude
As we discussed in previous parts of this series, Goldman Sachs (GS) has gone bullish on commodity prices due to the upturn in manufacturing activity that it expects. Along with commodity prices, the firm is bullish on WTI (West Texas Intermediate) crude oil prices (USO) (DBO). It expects WTI crude oil price to be $55 per barrel in 1Q17 and 2Q17. These estimates were raised from $45 and $50 per barrel, respectively, for those periods.
Article continues below advertisement
Goldman is hopeful that OPEC (Organization of the Petroleum Exporting Countries) will be able to limit crude oil output in its upcoming meeting on November 30. The report noted that "With greater confidence that the global oil market can finally shift into deficit later next year, we now believe that there is a strong rationale for low-cost producers to deliver a swift production cut to normalize inventories."
Bearish on gold
Meanwhile, GS cut its gold price forecast to $1,200 per troy ounce for the three- and six-month periods. However, it left intact its one-year gold price forecast at $1,250 per troy ounce. The firm said that the downside risks remain in its estimates for gold prices due to the possibility of physical ETF sales (GLD) (IAU).
Investors in gold closely monitor changes in the interest rate environment. Rising interest rates are detrimental to gold prices, but not directly. It's actually the impact of a contractionary monetary policy on the US dollar that impacts gold prices, because they are priced into the greenback.
Any rise in interest rates tends to strengthen the dollar (UUP). Historically, gold prices and the dollar have shown a significant negative correlation (meaning that they tend to go in opposite directions). So a rise in the dollar would depress crude oil prices, while a fall would boost crude prices.
Due to the expectations of a rate hike in the upcoming US Fed meeting in December, it's expected that gold prices will be under pressure due to the expected rise in the US dollar.