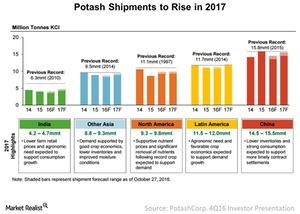 Where Global Potash Shipments Will Come from in 2017
Potash shipments
Potash shipments are expected to rise globally in 2017. Needless to say, China and India should show rises in demand compared to 2016, as both these countries delayed their contract settlements during the year. Let's look at how global demand will play out in 2017 based on region.
Article continues below advertisement
China tops demand
Globally, China will have the largest share of global potash demand in 2017. China will command about 14.5 million–15.5 million metric tons of potash, accounting for about 24% of total global shipments in 2017. While shipments to China are expected to rise in 2017, they'll fall shy of their 2015 record of 15.8 million metric tons. Chinese demand is expected to rise on the back of lower inventories and expected contract settlements.
India, too, will see a rise in demand in 2017 to 4.2 million–4.7 million metric tons, higher than the past three consecutive years' demands. However, this amount will likely fall significantly short of the country's 6.3 million metric ton record from 2010.
Other regions
Latin America's 11.5 million–12 million metric ton demand is expected to top its record 11.7 million metric ton demand from 2014, while North America's demand is forecast to range between 9.3 million and 9.8 million metric tons. PotashCorp (POT), Agrium (AGU), Israel Chemicals (ICL), and The Mosaic Company (MOS) actively serve North American markets (IYM).
The rest of Asia's demand is forecast to be around 8.8 million–9.3 million metric tons, short of the region's 9.5 million metric ton record from 2014.