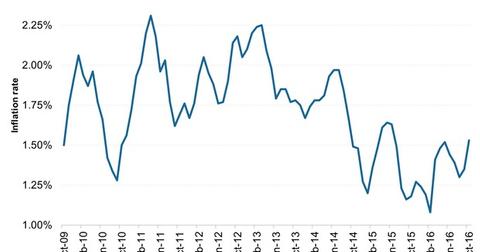 Should We Get Ready for a Rate Hike in December?
By David Ashworth

Updated
Rate hike possibility is quite high
The possibility of a 25-basis-point rate hike in December is quite high since Donald Trump was elected president of the United States. That's not to say that a rate hike would have been unlikely had Hillary Clinton been elected. But since Democrats generally have more dovish views on monetary policy than Republicans, the possibility of a rate hike in December would have been small.
The Republican Party has in general been critical of Fed chair Janet Yellen and the Federal Reserve Board for keeping interest rates low for an extended period of time. When the GOP[1. Grand Old Party] won the U.S. Senate in early November 2014, it suggested that the Federal Reserve should let a mathematical equation such as the Taylor Rule determine the appropriate level of interest rates, thus guiding their actions.
The Taylor Rule, proposed by and named after John B. Taylor, forecasts the interest rate. It makes it possible to compare the prevalent rate and the forecast rate. The formula is based on inflation rate and output. Output spans productivity, labor force participation, and unemployment.
Article continues below advertisement
The markets think so, too
Republicans are back in power, which is expected to have an indirect influence on US monetary policy, and the economic indicators are strong. The five-year break-even inflation (TIP), as you can see in the above graph, indicates that inflation expectations have also picked up. With GDP coming in at 2.9% in 3Q16, the economic stage looks set for a rate hike (LQD) (HYG).
Immediately after Trump's victory, there were some concerns that the Fed would have to delay a December rate hike (BND) (GOVT) due to volatility and uncertainty from Trump's surprise victory. But the markets are already pricing in a rate hike in December. According to the CME Group FedWatch tool, the probability of a 25-basis-point rate hike in December was as high as 90.6% on November 17, 2016.
In the next part of this series, we'll see one way that the US monetary policy could evolve in a Trump administration.