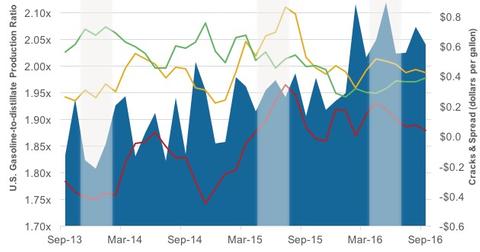 How Have Gasoline and Distillate Crack Spreads Evolved?
By Maitali Ramkumar

Nov. 14 2016, Published 3:02 p.m. ET
Gasoline and distillate crack spreads and the production ratio
US refiners have the capability to alter their refinery configurations in terms of processes, feedstocks, and equipment to produce more gasoline or distillates as deemed more profitable, given the refining environment. The chart below shows US refineries' gasoline production as a multiple of distillate production, referred to as gasoline-to-distillate production ratio.
The chart also depicts the gasoline crack, the distillate crack, and the premium that the gasoline crack commands over the distillate crack, which is referred to as the "spread."
Article continues below advertisement
2H13: distillate cracks at a premium to gasoline cracks
In September 2013, the premium that the distillate crack commanded over gasoline crack started to widen. This encouraged refiners to increase distillate production. In December 2013, the spread expanded to -$0.42 per gallon—that is, the gasoline crack was $0.42 per gallon lower than the distillate crack. The gasoline-to-distillate production ratio fell from 1.83x in September 2013 to 1.81x in December 2013, which is lower than the five-year average.
Regime shifts from mid-2015
However, the fall in crude oil prices changed the dynamics. Gasoline demand began swelling. The gasoline crack started commanding a premium over the distillate crack in mid-2015, and the spread rose to $0.34 per gallon in July 2015. At that time, the gasoline-to-distillate production ratio stood at 1.94x and has risen since then.
When the gasoline crack premium starts shrinking
Reacting to higher gasoline crack, refiners ramped up the supply for gasoline. The gasoline-to-distillate ratio rose to 2.1x in May 2016, the highest level in the last five years. With the steeper rise in production compared to demand, gasoline inventories started rising. This led to a reduction in the spread. Amid volatility, in May 2016, the spread narrowed to $0.15 per gallon. Since then, the spread has further shrunk to $0.04 per gallon in September 2016.
The above analysis should shed some light on the interdependent relationship at play in the US refining industry. Refiners both cause and bear the impact of these refining dynamics.
Leading downstream players in the industry are Marathon Petroleum (MPC), Valero Energy (VLO), Phillips 66 (PSX), and Tesoro (TSO). The iShares US Energy ETF (IYE) has ~7% exposure to refining and marketing sector stocks. In all the above periods, inventories have played a crucial role.
Continue to the next part for a look at how inventory and cracks affect each other in the refining industry.