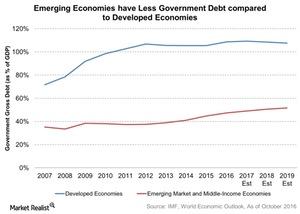 Are Fundamentals Still Supportive of Emerging Markets?
BUTCHER: What is your outlook for emerging markets fundamentals?
RODILOSSO: Emerging markets overall are still tied to the developed world in many ways, but you've got plenty of stories about emerging economies developing independent domestic demand and more internal markets. But I think it is critical to think about rates and higher rates and the scenarios where we are likely to see in developed markets, perhaps stronger U.S. growth, maybe signs of life out of Japan, and some acceleration of growth in Europe. These are generally good stories for emerging markets. As it stands today, 2016 GDP rates for emerging markets are likely to come in a little higher than expected based on predictions made a year ago.
Article continues below advertisement
Emerging markets might even expand their spread over growth rates in developed markets. So the emerging market to developed market growth fundamentals, at least, which is a great measure of ability to pay back debt, had been narrowing for a couple of years while commodities were coming off and EMs were having various deficit problems, but many of them have corrected current account deficit issues.
This fundamental is key: the EM-to-DM growth spread is favoring EM again. As I mentioned, central banks have maintained pretty conventional policies, and I believe that represents a healthy starting point. Debt levels overall have risen in some quarters of emerging markets, but they are still much lower with lower ratios of sovereign debt to GDP overall, especially when you compare these to ratios 20-25 years ago.
Market Realist – Emerging markets have less debt compared to developed counterparts
Fundamentals have been improving in emerging market economies in 2016. Regarding gross government debt, emerging markets have positioned themselves better compared to developed markets.
The chart above shows total government debt as a percentage of GDP. Developed markets are leading with a huge amount of government debt.
Growth in emerging markets is picking up
As policies helped commodities prices stabilize, emerging market economies relying heavily on the commodities sector benefited. Economic growth is expected to rise in the coming years, as we can see in the chart above. According to forecasts from the International Monetary Fund (or IMF), the growth differential between developed markets and emerging markets will rise.
Emerging market growth looks healthy. In the current quarter, year-over-year GDP growth rates have been quite favorable to most major emerging economies. The emerging debt market (EMB) (EMAG) (IGEM) benefited from these improved fundamentals.
Now, let's discuss whether a rate hike will have any effect on emerging market debt performance.