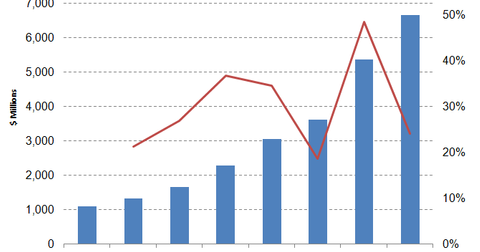 This Fueled Morgan Stanley's Bullishness in Salesforce's Stock
By Anne Shields

Updated
Salesforce's edge over peers
Morgan Stanley (MS) applauded Salesforce's (CRM) move to back away from the Twitter (TWTR) acquisition. Keith Weiss, an analyst with Morgan Stanley, mentioned that Twitter was "not the right fit" for Salesforce investors and that the company can now focus on its fundamentals.
Barrons blog, citing Weiss's statement, stated: "Within applications, the focus of enterprises and CIOs today is the front office, and in particular front office SaaS-based applications. There is no vendor with better exposure to SaaS-based front office applications than Salesforce.com. Further, Salesforce.com continues to stay ahead of key secular themes in the space, with direct participation in machine learning, mobile computing, Internet of Things, [and] social and cloud computing broadly."

Article continues below advertisement
The research house believes that within the overall IT (information technology) market, software is expected to gain market share owing to the rapid rate of innovation and high relative value. Within software, application software is preferred over infrastructure because the former leads to efficiency and effectiveness rather than to cost minimization.
Morgan Stanley also stated that within application software, the CIO's (chief information officer) focus is the front office, specifically SaaS-based applications, an area dominated by Salesforce.
Salesforce's consistent double-digit revenue growth
Brian Schwartz, an analyst with Oppenheimer, considers Salesforce to be "one of the healthiest long-term growth stories." The company continues to garner attention in the enterprise software space. Unlike peers Oracle (ORCL) and IBM (IBM), which are finding it difficult to record revenue growth, Salesforce has managed to grow at an annual rate of ~20%, and it expects to keep doing so in the near future. Although Salesforce's revenue growth has been volatile, the company continues to grow.
For fiscal 2017, Salesforce now expects its revenue and non-GAAP (generally accepted accounting principles) earnings per share to reach $8.28 billion–$8.33 billion and $0.93–$0.95, respectively.