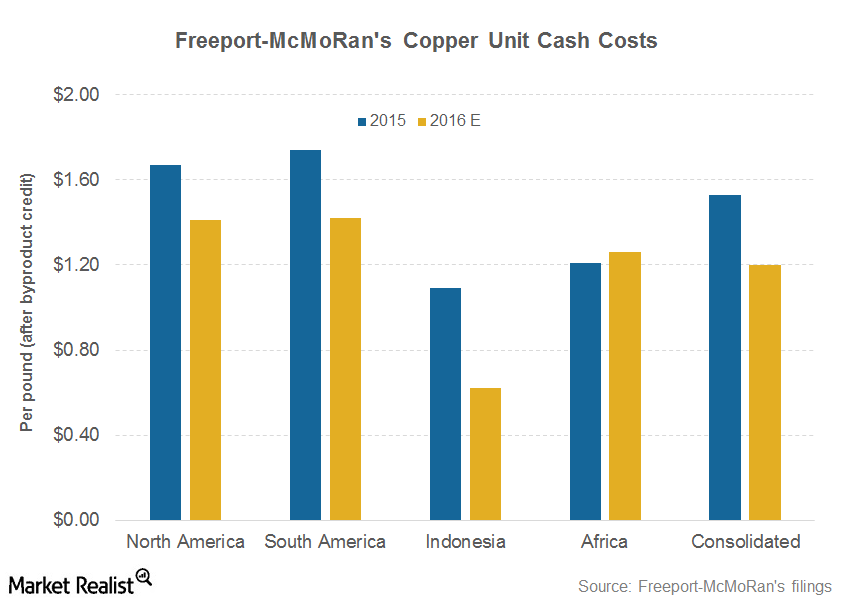 Freeport-McMoRan: 2017 Is Okay, What about 2018?
By Mohit Oberoi, CFA

Nov. 15 2016, Updated 11:04 a.m. ET
Freeport-McMoRan
Freeport-McMoRan (FCX) expects its unit cash costs after by-product credit to fall to $1.20 per pound in 2016 from $1.53 per pound in 2015. One reason behind the steep fall in its unit cash costs has been higher by-product credit. Molybdenum and gold (GLD) are produced as by-products in most copper mines. Gold rallied handsomely this year. It helped copper producers reduce their unit costs after accounting for by-product credits. Notably, copper miners including Southern Copper (SCCO) and Turquoise Hill Resources (TRQ) (RIO) produce gold as a by-product in their copper mines.
Article continues below advertisement
Higher gold volumes
The Grasberg mine will be key to Freeport reducing its unit cash costs this year. Most of the expected reductions in unit cash costs seem to be coming from the Grasberg mine. At the mine, Freeport expects its unit cash costs after by-product credits to average only $0.62 per pound in 2016—a fall from $1.09 per pound in 2015.
Freeport-McMoRan's gold volumes in the first nine months of 2016 only totaled 674,000 ounces. However, the company expects its gold volumes to rise to 590,000 ounces in 4Q16. Freeport's gold volumes in fiscal 2017 are expected to rise to 2.75 million ounces—compared to its expected volume of 1.26 million ounces in fiscal 2016.
Higher ore grades
Freeport expects to mine higher ore grades at the Grasberg mine until 1Q18. It would have a positive impact on the company's unit production costs over this period. However, we could see an increase in Freeport's unit cash costs as its gold volumes fall. Also, it would be fair to assume that the unit costs at the Grasberg mine could rise after 2018. Underground mines are generally high-cost operations compared to mines above the ground.
Although Freeport could see an increase in unit costs, its cash flows could still improve. We'll discuss this more in the next part.