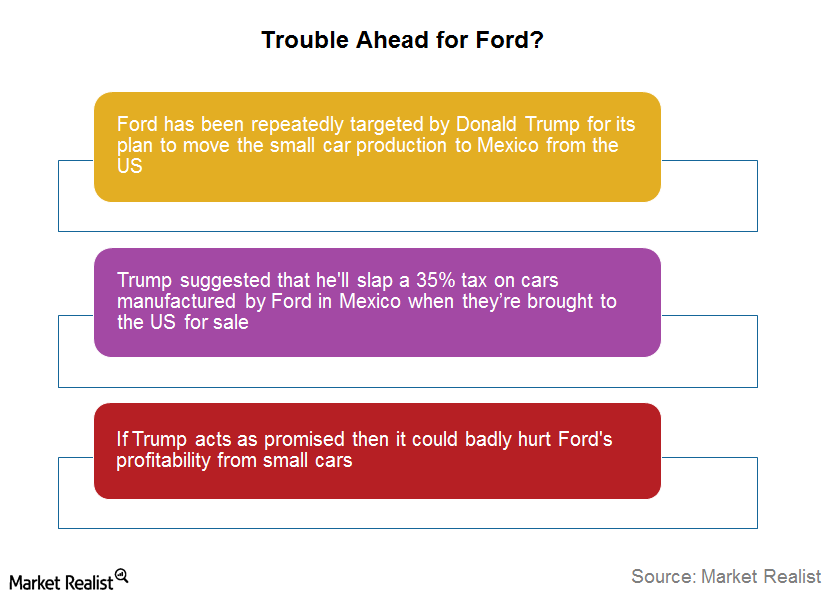 Ford versus Trump: What Options Does the Company Have?
By Jitendra Parashar

Nov. 20 2020, Updated 3:44 p.m. ET
Ford versus Trump
Ford Motor Company (F) has been targeted repeatedly by Donald Trump since the beginning of his presidential campaign. Trump argued that Ford is responsible for taking away jobs from the US due to its new investments in Mexico. Now that Trump won the presidential election, let's find out what options the company has moving forward. We'll also explore how these options will impact Ford's business in the future.
Article continues below advertisement
Investments in Mexico
In April 2016, Ford revealed its intentions to invest $1.6 billion in a new small car manufacturing facility in Mexico. The new plant will likely create around 2,800 additional direct jobs by 2020 in the region. The company expects the production line to be operational in 2018.
During his campaign, Donald Trump clearly stated his intention to slap a 35% tax on cars manufactured by Ford in Mexico when they're brought to the US for sale.
What options does Ford have?
It's clear that Ford has very few options. First, the company might want to try convincing Trump on why investments in Mexico are critical for its business to survive. It's important to note that small cars tend to have lower margins for automakers (VCR) compared to other heavyweight vehicles including trucks and utility vehicles.
If Trump maintains his tough stance, things could get worse for Ford. While Ford is already struggling with declining profitability, any move by Trump to penalize it could hurt the company's small car business.
Note that Ford is the second-largest US automaker by volume behind General Motors (GM). Both of the companies face stiff competition in the US small car segment from Japanese auto giants like Toyota (TM) and Honda (HMC).
In the next part, we'll look at what Trump's victory might mean for other mainstream automakers.