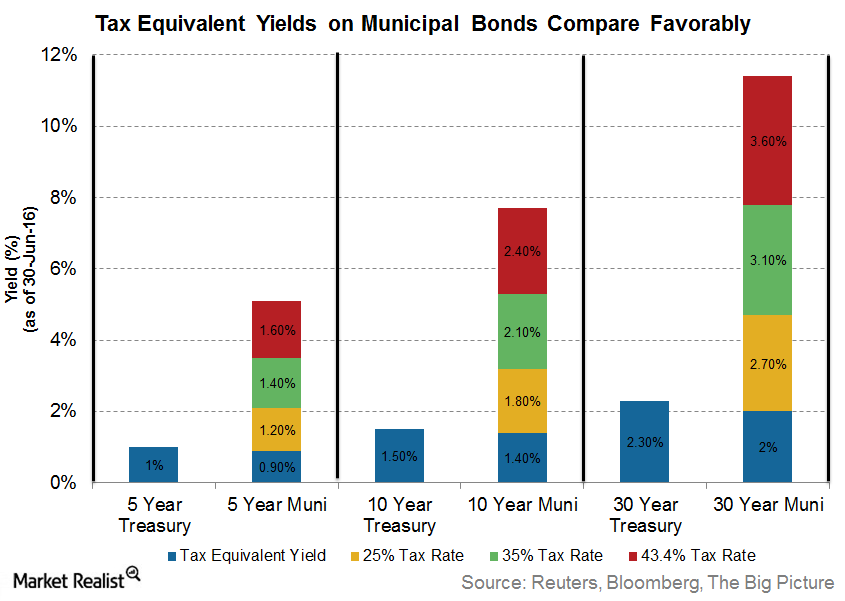 Food for Thought: Consider Investing in Municipal Bonds
By VanEck

Nov. 30 2016, Updated 10:17 a.m. ET
Many muni analysts and market participants maintain that the recent negative performance of muni bonds is unlikely to result in "taper tantrum-style" muni fund outflows, despite expectations of a Fed rate hike before year end.
We believe that markets have already priced in a rate hike, given that U.S. Treasury futures reflect a 70% probability of December Federal Reserve (the "Fed") action. A more hawkish Fed is more likely about its low-bar for tightening rather than its confidence in the strength of U.S. growth and inflation. While recently we have seen the yield curve steepen, rate hikes are not necessarily a recipe for steeper curves. In the recent past they have actually resulted in curve flattening.
Market Realist – Before we consider the recent free fall in municipal bond prices and its implications, let's look at why you should consider adding the asset class to your portfolio.
Article continues below advertisement
After-tax returns 
The biggest benefit of municipal bonds, or muni bonds (MUB) as they are more popularly known, is their extremely tax-efficient nature. Since the interest accrued on a muni bond is exempt from federal, state, and local taxes, the after-tax returns of a muni bond historically supersede those of a corporate bond (BND) or Treasury (TLT). Muni bonds (SHM) tend to outperform yields from Treasuries for all income brackets, as shown in the above graph. Tax-conscious investors can find better refuge in muni bonds than in Treasuries.
Diversification potential and resistance to volatility
Bonds are often seen as a form of ballast in periods of high volatility when equities
(VTI)
underperform.
Muni bonds could provide a safety cushion for equity investors. Furthermore, muni bonds also tend to provide immense diversification potential since their historical correlation to other asset classes has been low, as shown in the graph above.
Credit quality 
Muni bonds' credit quality is undoubtedly robust. The graph above shows the ten-year average cumulative default rates for different classes of corporate bonds and muni bonds. Of Moody's rated corporate bonds, 11.7% default, whereas only 0.13% of Moody's rated muni bonds default. Moreover, the yields on muni bonds, particularly in today's low-income environment, are stellar. Investors looking for both credit quality and decent fixed income could consider adding the asset class to their portfolio. In the next part of this series, we'll discuss what good value opportunities muni bonds offer investors at the moment.