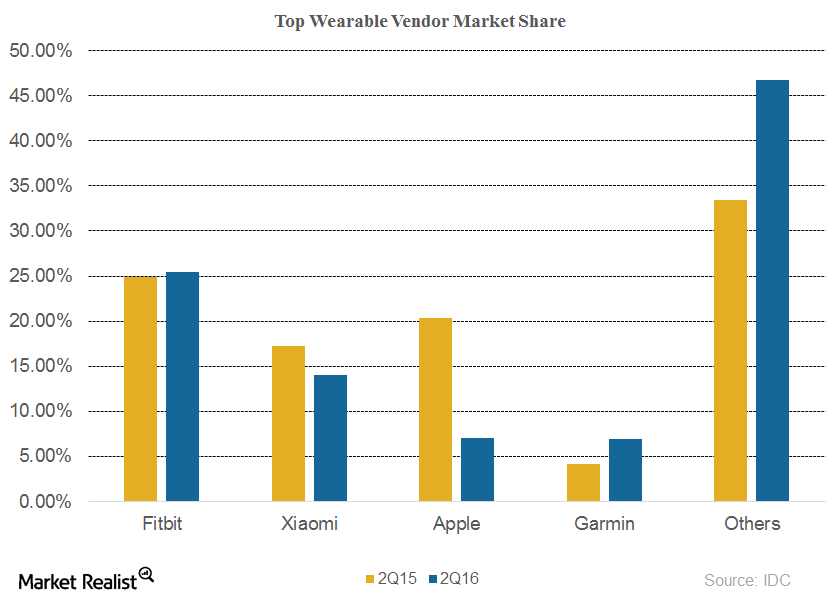 Why Fitbit Continues to Lead the Wearables Market
By Adam Rogers

Nov. 20 2020, Updated 4:36 p.m. ET
Wearables market to grow 20% from 2016 to 2020
According to market research firm IDC (International Data Corporation), the worldwide wearables market is expected to grow at a CAGR (compound annual growth rate) of 20.3% from 2016 to 2020. Total shipments are projected to rise from 79 million in 2015 to 101.9 million in 2016 and 213.6 million in 2020.
The watch category popularized by Apple (AAPL) accounts for 41% of the total wearables shipments in 2016 and is expected to grow at a CAGR of 27.8% between 2016 and 2020. Fitness-focused wristbands that drive revenues for Fitbit (FIT) and China's (FXI) Xiaomi account for 50.2% of the total market. They're expected to grow at a CAGR of 4.3% during the same period.
Article continues below advertisement
By 2020, the watch is expected to account for 52% of the wearables market. The wristband is expected to account for 28.5% of the total market. IDC expects the eyewear segment to account for 8.8% in 2020, up from 0.2% in 2015, and the clothing segment to account for 7.3% of the total market, up from 0.6% in 2015.
Fitbit's 25.4% share in wearables
According to IDC, Fitbit is estimated to have shipped 5.7 million units with a share of 25.4% in the wearables device market in 2Q16.
Xiaomi came in second place for 2Q16, with shipments of 3.1 million units and a market share of 14%. Apple followed with shipments of 1.6 million units and a share of 7%. Lifesense and Garmin (GRMN) are the other leading players in this segment, with shipments of 1 million units and 1.6 million units, respectively.
In 2Q16, total unit shipments rose 26.1% year-over-year from 17.8 million units to 22.5 million units.