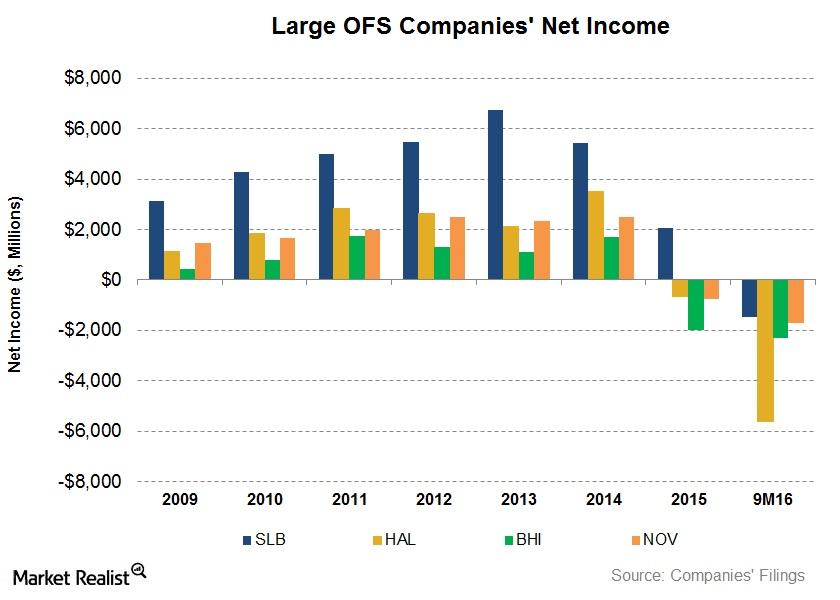 Finding Trends in Oilfield Services Companies' Net Incomes
By Alex Chamberlin

Nov. 20 2020, Updated 5:05 p.m. ET
Why OFS companies' net incomes dwindled
Many oilfield equipment and services (or OFS) companies witnessed stupendous rises in their net incomes from 2009 to 2014. Strong demand for their equipment and services strengthened OFS companies' bargaining power with their upstream clients, resulting in higher pricing and margins.
However, following crude oil's price crash starting in mid-2014, the OFS industry found itself in a capacity glut. This glut sent margins falling considerably in 2015 and 2016. Many OFS companies have recorded impairment and restructuring charges in recent quarters as they come to terms with a weak energy market. In this article, we'll discuss the net income trend by comparing the largest four OFS companies in the United States.
Article continues below advertisement
What happened to Schlumberger?
Schlumberger's (SLB) net income rose 74% from 2009 to 2014. In line with the industry trend, SLB's 2015 net earnings fell 62% compared to the previous year.
In the first nine months of 2016, SLB's earnings turned to a loss. SLB also recorded integration charges related to its Cameron acquisition in 2016, and it recorded huge asset impairment and workforce reduction charges in the first nine months of 2016, which led to a net loss. Schlumberger makes up 1.3% of the iShares MSCI KLD 400 Social ETF (DSI).
Net income trends for HAL, BHI, and NOV
Halliburton (HAL) saw a 206% rise in net income from 2009 to 2014. However, HAL's earnings turned to a loss in 2015. HAL's earnings deteriorated even further in 2016. HAL's net loss in the first nine months of 2016 was $5.6 billion. In this period, the company's bottom line was negatively affected by the following:
~$4.0 billion pretax Baker Hughes termination-related costs
~$3.2 billion pretax impairments and other charges
Baker Hughes's (BHI) net income rose 308% from 2009 to 2014. However, its 2015 net income crashed to a loss. In the first nine months of 2016, BHI's net fall was $2.3 billion. Despite the merger termination–related gains it received from HAL, BHI's earnings were negatively affected by goodwill and asset impairments, workforce reductions, facility closures, and contract termination charges. Read Market Realist's Baker Hughes–Halliburton Merger Falls Through: Impact on BHI to learn more.
National Oilwell Varco's (NOV) net income growth was relatively moderate, at 70%, from 2009 to 2014. In 2015, NOV's net income also turned to a loss. In the first nine months of 2016, NOV recorded a fall of $1.7 billion, mostly due to huge goodwill impairment charges, severance, facility closure charges, and asset write-offs.
Next, we'll analyze the OFS industry's free cash flow trend.