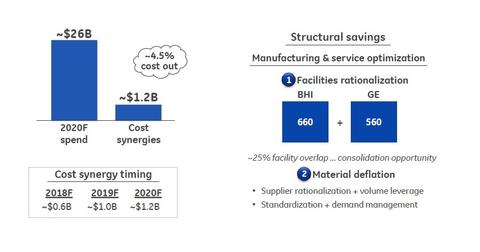 Financial Details of the GE–Baker Hughes Partnership Explained
By Alex Chamberlin

Updated
Explaining the GE-Baker Hughes partnership in financial terms
In the earlier parts of this series, we explained the operational scope of the General Electric (GE) and Baker Hughes (BHI) merger. In this article, we'll try to analyze the financial terms of the deal. 
We'll also try to understand the benefits that GE's shareholders can expect from the company's combining its Oil & Gas business with BHI.
Article continues below advertisement
What are the deal's components?
Under the terms of the proposed transaction, GE would own 62.5% of the new partnership. BHI's shareholders would own 37.5% of the partnership via a newly listed corporation. 
GE estimates BHI's total enterprise value (or TEV) in the transaction to be 11x its consensus 2018 EBITDA (earnings before interest, tax, depreciation, and amortization).
What's in it for BHI's shareholders?
If the deal goes through successfully, Baker Hughes's shareholders will receive a one-time dividend of $17.50 per share. GE will pay $7.4 billion to the partnership, which will use this cash to pay the special dividend. BHI makes up 1.7% of the iShares US Energy ETF (IYE).
GE will finance this payment with borrowings from GE Capital, its financial services unit. GE feels that it has the headroom for the additional leverage, and it doesn't expect its credit rating to be adversely affected by the borrowing.
Why is GE keen to strike this deal?
GE expects that the BHI transaction will increase its shareholder value. It also estimates that the combined company will achieve operating cost reductions. Plus, any recovery in the energy sector will lead to operating margin improvement and revenue growth for the new entity, which will be better suited to take advantage of the upswing in the industry.
Synergies arising from cost efficiencies are expected to add $0.04 to GE's earnings by 2018 and $0.08 by 2020. The combined company, which is estimated to have $32 billion in revenue, could achieve an annualized $1.6 billion in revenue and cost synergies by 2020. The net present value of these synergies is estimated to be $13.7 billion.
Next, let's discuss GEs and BHI's comparative valuations and operating metrics.