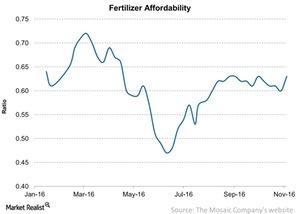 Analyzing Fertilizers' Affordability Last Week
By Adam Jones

Updated
Fertilizers' affordability
Earlier in this series, we discussed how NPK fertilizer prices moved in the week ending November 4 and throughout the year. It's important to look at these prices relative to crop price levels because it helps determine fertilizers' affordability. When crop prices are high, a farmer will likely earn more income. In a soft crop price environment, a farmer might look to lower costs for fertilizers and other overheads.
Article continues below advertisement
Calculating affordability
In the above chart, Mosaic (MOS) calculates fertilizer affordability by measuring the fertilizer price index (key fertilizers indexed to 2005) over the crop price index (key fertilizer consuming crops indexed to 2005). For the week ending November 4, fertilizer affordability rose sharply from 0.60x to 0.63x. A ratio below 1 means that fertilizers are more affordable than during the base year. The above ratio of 0.63x shows that fertilizers became less affordable last week compared to a week ago.
It isn't surprising to see that current fertilizer prices are more affordable compared to the base year because prices have fallen significantly. Companies such as PotashCorp (POT), Agrium (AGU), and CF Industries (CF) lowered their cost of production and offered deep discounts to farmers. It kept fertilizers affordable for farmers (MOO). With fertilizer and crop prices trading at multiyear lows, it will be interesting to see how the ratio changes in the near term.
Remember, you can keep checking in with this weekly Market Realist series to track fertilizer prices. Prices are crucial for companies like Mosaic (MOS), PotashCorp, Agrium, CF Industries, and Intrepid Potash (IPI).
You can also visit Market Realist's Agricultural Fertilizers page for ongoing details and updates on these individual companies.