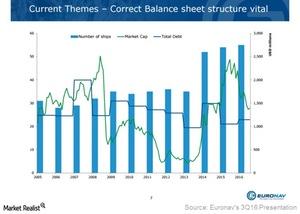 Euronav's Financial and Liquidity Position after Its 3Q16 Results
By Sue Goodridge

Dec. 4 2020, Updated 10:51 a.m. ET
High leverage
Crude (DBO) tanker companies such as Frontline (FRO), Nordic American Tankers (NAT), Teekay Tankers (TNK), DHT Holdings (DHT), and Euronav (EURN) are highly leveraged. Leverage refers to a company's fixed obligations.
Investors should keep in mind that high leverage may not always be negative, as leverage is a double-edged sword. Leverage can magnify returns in a bull market and increase risk in a downturn. Euronav believes that as the tanker market remains volatile, it is important to have a strong balance sheet.
Article continues below advertisement
Debt profile
On September 30, 2016, Euronav had long-term debt of ~$1.0 billion. This increased from $952 million at the start of the year. Since 2010, the company's debt has always been below $1,200 million.
The company's leverage was 40% to the book value and 43% to market value. Euronav's leverage is expected to increase in the coming quarters once the company finances the final part of two VLCC resales.
Liquidity position
Euronav (EURN) has a good liquidity position, with total liquidity of $410 million. This comprises $111 million in cash, a $239 million secured revolving credit facility, and a $60 million unsecured credit line.
The company's current assets of $244 million are well below its current liabilities of $183 million. The company's current ratio is ~1.3, down from ~2.1 at the start of the year.