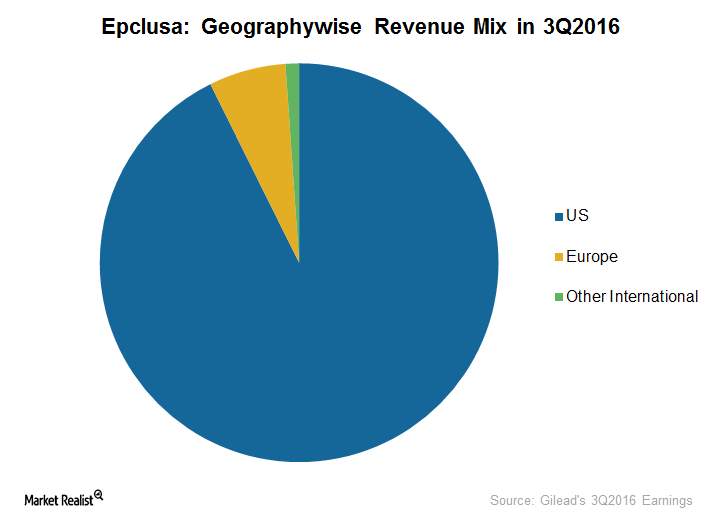 Epclusa: Gilead Sciences's Pan-Genotype Product
By Jillian Dabney

Dec. 1 2016, Updated 8:04 a.m. ET
Epclusa
Gilead Sciences (GILD) launched Epclusa in the US on June 18, 2016. It proved to be the first and only all-oral pan-genotype product in the US. During 3Q16, Epclusa garnered $593 million from the US.
It generated $40 million in revenues from Europe, while the contribution from the Other International segment stood at $7 million during the period.
Epclusa won the marketing authorization from the European Commission on July 8, 2016, and it's now available in Germany, Sweden, Norway, Finland, and Denmark. After implementing a successful pricing and reimbursement agreement, Gilead Sciences expects to launch Epclusa in other large EU markets by the second half of 2017.
Epclusa is a sofosbuvir-based regimen and is a combination of sofosbuvir with velpatasvir. The product can treat the majority of HCV infections, regardless of genotype. The 12-week treatment with Epclusa offers higher cure rates across all genotypes.
Article continues below advertisement
What are the advantages of Epclusa?
Despite being approved for pan-genotype HCV infections, Epclusa is primarily being used in genotype 2 and 3 cases. When compared with interferon-free regimens, it seems to be cheaper for treating genotype 3.
There are numerous drugs on the market for treating genotype 1, the most common HCV infection, such as AbbVie's (ABBV) Technivie and Viekira, Bristol-Myers Squibb's (BMY) Daklinza, and Merck's (MRK) Zepatier. However, for the second most common type of HCV, genotype 2 and 3, there aren't many drugs except Sovaldi.
As there isn't any competition for treating HCV genotype 2 and 3 infections, the product had good coverage and was added by 11 state Medicaid programs for these two labels. Based on medical need, most commercial and Medicare Part D plans are offering insurance coverage to the drug.
With its costly HCV drugs, Gilead Sciences (GILD) has one of the highest net margins in the biotechnology industry. There is a possibility that these margins could fall with the declining contribution from the HCV portfolio.
However, if Gilead Sciences maintains the margins, its share price could rise. Investing in the Merrill Lynch Biotech HOLDRS ETF (BBH) can offer you broad-based exposure to Gilead Sciences, which has 11.1% of its assets in BBH.
Continue to the next part for detailed information on Gilead Sciences's revenue projections beyond 2016.