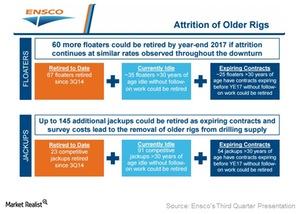 Ensco: Offshore Drilling's Rig Supply
By Sue Goodridge

Nov. 1 2016, Updated 3:06 p.m. ET
Article focus
In the previous article, we noted that Ensco (ESV) pointed out some levers for rebalancing of markets, particularly oil prices and break-even points. In this article, we'll look at another lever—rig supply.
Article continues below advertisement
Offshore rig supply
Rig scrapping should help the rig market to rebalance. Around 67 floaters have been retired since the beginning of the downturn. Ensco believes this number will reach 100 soon. There have been more than 40 rigs over 30 years within the floater segment, which are currently idle or will be idle at the end of 2017. Another 30 rigs of similar age will see their contracts expire by the end of next year.
Even if half of these floaters are retired, the 100 mark should be reached easily. In addition, there are more candidates for scrapping that are older than 15 years and are noncompetitive against newer rigs.
Comparatively, there has been less scrapping in the jack-up market. Only 23 rigs have been scrapped, but a greater number of rigs are stacked. There is a smaller possibility that these rigs will return to the market. Around 145 rigs are currently idle or will be idle by the end of 2017. These all are over 30 years of age, and there is a high possibility that scrapping will pick up.
At the same time, newbuilds are expected to enter the market. However, their number is far lower than the number of rigs that will be scrapped. Ensco believes that going into 2018, the marketed fleet will be smaller than what we have today.
How these levers play out will determine how long and when the markets will rebalance. Until that time, offshore drillers like Seadrill (SDRL), Transocean (RIG), Rowan Companies (RDC), Noble (NE), Diamond Offshore (DO), Ocean Rig (ORIG), and Ensco could have a hard time