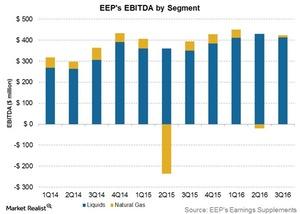 How Enbridge Energy Partners' Segments Are Performing
By Rekha Khandelwal, CFA

Nov. 11 2016, Published 2:13 p.m. ET
EEP's Liquids segment
Enbridge Energy Partners (EEP) carries out its operations through two reportable segments: Liquids and Natural Gas. Excluding an asset impairment charge, Enbridge Energy Partners' Liquids segment contributed ~98% to the company's total EBITDA (earnings before interest, tax, depreciation, and amortization) in 3Q16.
"The Partnership's core liquids pipelines business continues to perform well," said Mark Maki, EEP's president, in the partnership's 3Q16 earnings release. 
Article continues below advertisement
Maki continued, "Deliveries on our Lakehead System have strengthened following the wildfires that impacted crude oil production in northeastern Alberta in May. With seasonal refinery turnarounds largely complete, deliveries are expected to remain strong through the end of the year with our heavy crude oil lines continuing to be oversubscribed."
The Liquids segment transports crude oil and natural gas liquids from reserves. The segment generates revenue on the basis of rates charged per barrel to gather, transport, and ship crude oil or liquid petroleum. The above graph shows Enbridge Energy Partners' segmental contributions to its EBITDA since the beginning of 2014.
Natural Gas segment
As the above graph shows, the contribution of EEP's Natural Gas segment to its EBITDA has been relatively low. The Natural Gas segment contributed only 2% to EEP's 3Q16 EBITDA. Enbridge Energy Partners' natural gas assets are owned by Midcoast Energy Partners (MEP).
The segment's volumes have been falling, primarily due to the continued low commodity price environment, which has resulted in reductions in drilling activity from producers in Enbridge Energy Partners' areas of operation.
EEP recently announced a strategic evaluation of MEP. According to the company, the various strategic alternatives under consideration included "asset sales; mergers, joint ventures, reorganizations or recapitalizations; and further reductions in operating and capital expenditures for the Natural Gas business."
EEP expects that now, MEP's evaluation could be affected by parent Enbridge's (ENB) merger with Spectra Energy (SE), causing it to extend into 2017.