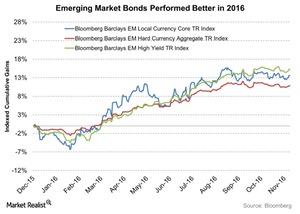 Is Emerging Markets Debt Ripe with Yield Opportunities?
By Terry Simpson

Nov. 23 2016, Updated 10:05 a.m. ET
International exposure via emerging market (EM) debt
This sector offers higher yield for a slight pickup in risk. Economic fundamentals have turned a corner, and a more stable U.S. dollar suggests an opportunity for local-currency bond investing. But we have become more selective given rising valuations. We prefer the front end of local markets with room for EM central banks to cut rates further, such as in Brazil and emerging Asia. An aggressive Fed tightening cycle or global risk-off scenario could pose a threat to the asset class, though we see the risk as low.
Article continues below advertisement
Market Realist – How is your appetite for higher-yield emerging market bonds?
Emerging market bonds (EMB) offer a diversified exposure with a higher yield compared to the developed market equivalents (IHY). The emerging market bonds showed improved performance in 2016, driven by higher commodity prices and better fundamentals.
Most of the developed market (IHY) bonds are offering very low to negative yields, as we saw in the chart in Part 1. In this environment, investors can shift their focus to emerging market bonds. However, a higher yield cannot be obtained without taking on more risk. So, these bonds also carry high risk compared to other asset classes.
These bonds carry the usual risks of bond investing such as credit risk, currency, inflation, and interest rate risk. In addition to these risks, these bonds also carry an additional EM country risk. To compensate for the additional risk, these bonds offer an attractive and higher yield to investors compared to their developed market counterparts.
The emerging market debt space offers a diversified set of asset classes such as local currency sovereign debt, hard currency sovereign debt, and hard currency corporate debt.
The chart above shows the higher returns of emerging market bonds so far in 2016. The Bloomberg Barclays Emerging Markets Local Currency Index has risen 16% year-to-date (or YTD), and the Bloomberg Barclays Emerging Markets Hard Currency Aggregate Index has risen 12% YTD.
Although the chances of a Federal Reserve rate hike for December looks positive, this doesn't stop the emerging market (EEM) debt from outperforming other asset classes. The Fed's decision to hold off hikes throughout 2016 added to the performance of emerging market economies. With positive political reforms and improved economic growth for most emerging economies, the demand for these bonds looks promising