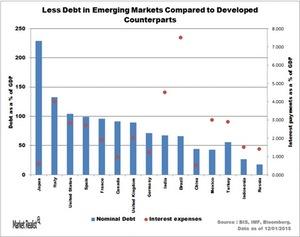 Do Emerging Market Bond Credit Ratings Affect Returns?
By VanEck

Nov. 28 2016, Published 9:32 a.m. ET
Credit rating upgrades and downgrades occur frequently, but two rating actions in September stood out in particular: Turkey's downgrade to non-investment grade status, and Hungary's upgrade to investment grade status.
Following the attempted coup in Turkey this past summer, a credit rating downgrade by Moody's Investors Service in September pushed the country into the non-investment grade category based on the credit rating methodology of the J.P. Morgan EMBI suite of indices, which track U.S. dollar-denominated emerging markets sovereign bonds. By contrast, Hungary benefitted from a rating upgrade by Standard & Poor's, which cited the country's improving fiscal, external, and growth expectations. This upgrade allowed Hungary to once again be included in investment grade-only indices.
Article continues below advertisement
Market Realist – Rating methodologies haven't changed much despite improved emerging market fundamentals
In recent years, emerging market (EMLC) (HYEM) ratings have improved considerably due to the strengthening macroeconomic framework as well as years of reforms. On the other hand, developed economies suffered during sub-prime crises and subsequent Euro debt crises. These weakening fundamentals resulted in investors flocking into emerging markets in search of better yields. But the credit rating differences between developed economies and emerging markets (EMB) haven't diminished much during the last decade.
As depicted in the chart above, emerging markets (or EMs) tend to have lower ratings compared to developed economies despite lower debt-to-GDP ratios. Further, as interest rates tend to be higher in EMs, interest expenses as a percentage of GDP are more or less similar to those of advanced economies.
Article continues below advertisement
Market Realist – Investors brushing off rating agency actions
From Mario Draghi's "whatever it takes" speech to Eurozone debt crises, there has been a disconnect between rating actions and bond prices. So when Draghi pledged to do "whatever it takes to preserve the euro," borrowing rates of Europe's riskiest southern economies fell. However, credit ratings were still the same.
Further, when the S&P announced an outlook downgrade for Australia, there was hardly any sign of panic among investors. Even the interest rate outlook barely moved.
Markets had muted responses to these downgrades. Even after Britain lost its AAA rating, the benchmark gilt yield fell to a record low. The UK government bonds surged after the ten-year yield fell below 1% amid speculations that the BOE could cut interest rates to ward off recession. The S&P reduced the grade by two steps to AA from AAA. Falling yields allow the country to reduce the cost of servicing its outstanding government debt, but at the cost of lower returns for savers.
Credit ratings measure borrowers' economic strength, and any news of deterioration could cause panic among investors, yet borrowing rates around the world have never been lowered. Rating agencies said that they are aware of this contradiction.