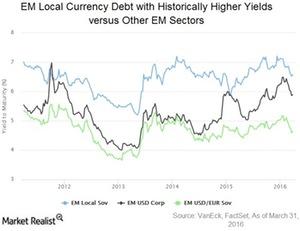 Why Might Emerging Market Local Currency Debt Be a Good Idea?
On the EM hard currency sovereign debt side within the investment-grade space, you may be able to get about a 50 basis point pick-up in yield versus investment-grade corporates. That represents a good diversifier, or perhaps a complement, at the very least, to your investment-grade allocation in the U.S.
You can do that via EM corporates as well. We happen to like the high-yield space within EM corporates; in terms of being underappreciated for how large and diversified, it is within the overall EM debt space. You can get a slightly higher average credit quality in emerging market high-yield corporates versus U.S. high-yield corporates, and at least a 50 basis point pick-up in yield. (Source: Based on the yield difference between the BofA Merrill Lynch Diversified HY US Emerging Markets Corporate Plus Index and the BofA Merrill Lynch US High Yield Master II as of 9/30/2016).
Article continues below advertisement
Market Realist – How are emerging market bonds evolving?
The emerging market (or EM) debt space is an attractive option for investors due to the expectation that high growth momentum will continue in the emerging market. This momentum should provide investors with diversification benefits along with higher yields compared to conventional bonds in the developed market.
The fear of multiple rate hikes' having abated in the United States has supported EM bonds (EMB) (EMAG) (IGEM) so far in 2016. EM hard currency sovereign and corporate bonds have performed well compared to their developed market counterparts. However, local currency bonds are the talk of the town.
The chart above shows that EM local currency sovereign bonds (EMLC) have outperformed EM hard currency sovereign bonds and corporates and even other asset classes. With most emerging market currencies performing better this year, these bonds have not only provided investors with higher yields, investors have also benefited from currency appreciation. Higher yields and benefits from currency appreciation have been highlights of EM local currency bonds, grabbing investors' attention and increasing demand for these bonds in 2016.
Appetite for higher yield emerging market bonds
Investors with higher risk appetites may want to shift their focuses to emerging market bonds, as most developed market (IHY) bonds are trading at negative yields. Let's take a look at the returns of emerging market bonds so far in 2016.
As the graph above indicates, the Bloomberg Barclays Emerging Markets Local Currency Index has risen 16% year-to-date (or YTD), and the Bloomberg Barclays Emerging Markets Hard Currency Aggregate Index has risen 12% YTD. Due to better political reforms and improved economic growth in most emerging economies (EEM), the demand for these bonds looks promising.
Even though demand for local currency bonds has risen and bonds have proven fruitful to investors on higher yields, they remain vulnerable to credit and currency risks.