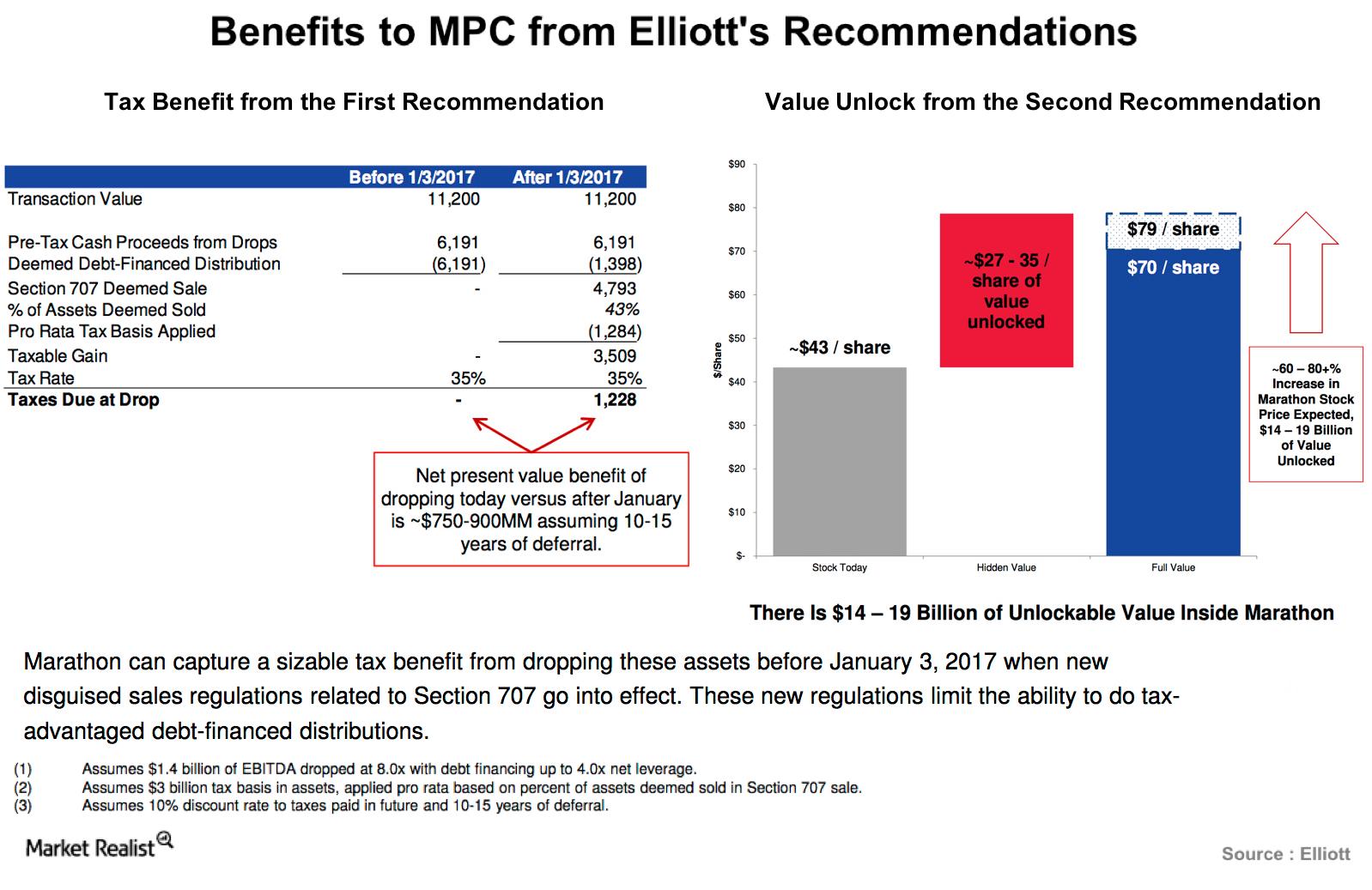 The Low-Down on Elliott's Recommendations for Marathon Petroleum
By Maitali Ramkumar

Nov. 22 2016, Updated 6:04 p.m. ET
Elliott's recommendations for Marathon Petroleum
In the previous part of this series, we looked at Elliott Management's open letter and recommendations to Marathon Petroleum (MPC). We also looked at MPC's response. In this part, we'll look more closely at the details of the proposal.
In the presentation accompanying the open letter, Elliott Management said, "Valuing each of Marathon's three business segments in line with public peers indicates an equity valuation ~80+% higher than Marathon today. Valuing each business at the lowest multiple or highest yield of any relevant peer indicates a valuation ~50+% higher than today."
To achieve this, Elliott Management has put forth a two-pronged recommendation.
Article continues below advertisement
The first recommendation
Elliott Management's first recommendation is to immediately drop down suitable midstream assets to MPLX (MPLX), MPC's midstream MLP. Elliot believes that delaying the drop-down could result in tax costs of about $750.0 million–$900.0 million.
On October 27, 2016, the day MPC released its earnings, management stated that the company would steadily drop down midstream assets to MPLX within three years.
According to Elliott, if MPC drops down the assets now, MPC will hold cash and LP (limited partner) shares worth about 60.0% of its current market capitalization. In fact, if the company exchanges its IDRs (International Depository Receipts) for LP shares, it would result in a value of about 110.0% of its current market cap. To know more about IDRs, please refer to IDRs: How Do They Impact MLPs?
Elliott also stated that MPC's cash flow from its GP (general partner) holdings in MPLX would be about $650.0 million in 2017. MPC holds a 24.0% interest in MPLX, including a 2.0% general partner interest as of September 30, 2016. This ownership reflects the conversion of the MPLX Class B shares in July 2017 and assumes a one-for-one exchange of MPLX preferred shares.
According to Elliott, quick drop-downs could substantially unlock value for MPC shareholders.
Article continues below advertisement
The second recommendation
Elliott Management wants MPC to spin off its company into three separate entities. Elliott believes a spin-off would result in an 80.0% or more rise in MPC's stock value. Elliott further stated that MPC's three business segments—refining, Speedway or marketing, and midstream—are currently valued at the lower end of its peers. The valuation is in spite of the fact that the quality and utilization of the assets are at par with its peers.
In the open letter, Quentin Koffey, portfolio manager for Elliott Management, clarified, "To be clear, we are not asking the Company to contemplate selling any portion of its business. Rather, we are asking the Board to evaluate whether Marathon shareholders would be better served by holding the three businesses separately via tax-free spinoffs to shareholders. The valuation uplift from such an action is compelling—as we have detailed above, peer valuations show that such an action would result in an 80+% increase to Marathon's stock price."
Management's reply
Disagreeing with Elliott Management's recommendations, Gary R. Heminger, MPC's chair, president, and chief executive officer, stated, "As discussed with Elliott, there are tax and other impediments to an immediate dropdown of all the assets to MPLX. In addition, we are evaluating strategic opportunities to highlight and capture the value of MPC's general partner interest in MPLX and optimize the cost of capital for MPLX. We also are assessing changes to our segment reporting structure related to our midstream assets."
For exposure to refining sector stocks, you can consider the iShares US Oil & Gas Exploration & Production (IEO). IEO has a ~21.0% exposure to oil and gas refining and marketing companies.
In the next part, we'll take a look at Marathon Petroleum's valuations compared to its peers.