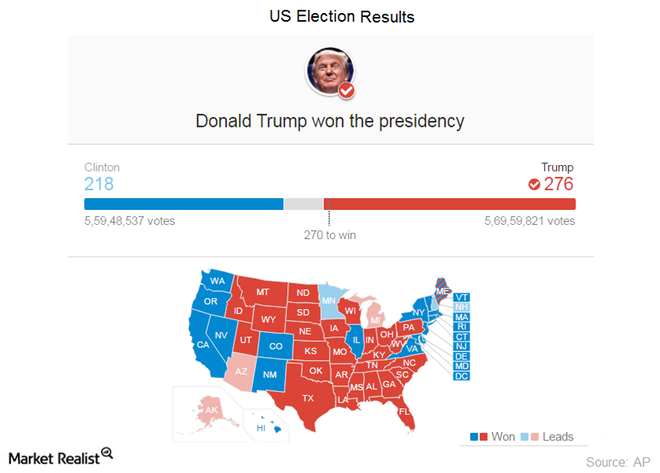 How Did the US Election Results Affect Media Stocks?
By Shirley Pelts

Dec. 4 2020, Updated 10:53 a.m. ET
US stock market
On November 9, the US election results were announced and the Republican presidential candidate, Donald Trump, was elected the 45th president of the United States. The Republican Party now controls both the House of Representatives and the Senate, which means that many regulations could be eased or changed under Trump. Changes in regulations could impact various sectors including energy, pharmaceutical, finance, and technology.
Article continues below advertisement
The US stock market had top gains under former Republican president Gerald Ford in 1974–1977. During his tenure, the US stock markets (S&P 500) rose by an annual average of 18.6%. However, former presidents Bill Clinton and Barrack Obama had the second and third best returns for the US stock markets under their tenures. US stock markets rose by an annual average of 14.9% and 12.6%, respectively, under these presidents.
After Trump's victory, the SPDR S&P 500 ETF (SPY), which tracks the S&P 500 rose 1.1%, on November 9. Media stocks Netflix (NFLX) and Time Warner (TWX) were down by 1.7% and 1.4%, respectively, on November 9. In contrast, Comcast (CMCSA) and AT&T (T) saw their stock prices go up by 1.5% and 1.2%, respectively.
In this series
In this series, we'll look at what Trump's win means for the media sector. We'll also look at how the possibility of a change in net neutrality regulations could affect media companies and the possible impact on the proposed acquisition of Time Warner by AT&T.