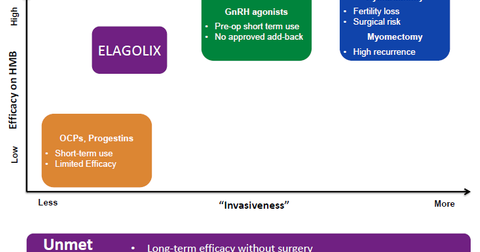 Elagolix May Become a Leading Uterine Fibroids Drug
By Margaret Patrick

Nov. 29 2016, Updated 11:04 a.m. ET
Uterine fibroids therapy
In addition to endometriosis, AbbVie's (ABBV) and Neurocrine Biosciences's (NBIX) Elagolix is also being investigated as a therapy for uterine fibroids.
According to AbbVie's R&D Day transcript, uterine fibroids are "benign tumors of the uterus that can occur singly or multiply within the muscle layer of the uterus. These tumors are responsive to both estrogen and progesterone, and they are associated with heavy menstrual bleeding."
The condition affects a large percentage of women population and can significantly impact the affected woman's quality of life. If approved by regulatory authorities, Elagolix has the potential to witness strong growth trends due to significant unmet demand.
Article continues below advertisement
Treatment options
The above diagram compares the existing treatment options for uterine fibroids and Elagolix based on degrees of invasiveness and efficacy. Oral contraceptives and progestins are approved only as a short term-course for uterine fibroids. However, while being the least invasive, they also rate low on the efficacy axis.
Lupron, a gonadotropin-releasing hormone agonist, is also approved as a short-term therapy prior to an operation. Further, there is no approved add-back therapy after the operation to go along with Lupron.
The most invasive treatment option is hysterectomy, which results in the loss of fertility. Myomectomy has been noted to have demonstrated a high one-year recurrence rate for uterine fibroids.
In such a scenario, with minimal invasiveness and high efficacy, Elagolix has a strong chance to become a preferred regimen for uterine fibroids. Entry into the women's health segment is also expected to enable AbbVie to enjoy the benefits of a diversification strategy similar to its peers Pfizer (PFE) and Merck (MRK).
Further, if Elagolix manages to secure regulatory approval, it may boost AbbVie stock as well as the SPDR S&P Dividend ETF (SDY). AbbVie makes up ~1.4% of SDY's total portfolio holdings.
In the next article, we'll analyze the results from phase 3 clinical trials evaluating Elagolix as therapy for endometriosis-related pain.