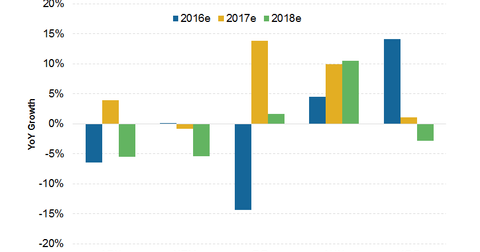 What Do Earnings Estimates for Gold Miners Mean?
By Anuradha Garg

Updated
Earnings revisions
Analysts' estimates usually lag price movements. We see upgrades when stocks have already risen. Downgrades typically occur when a company has already seen lower prices. Changes in analysts' estimates are key drivers of short-term price movements.
It's helpful to keep track of changes in analysts' estimates because they offer insight into what the market expects from a given company.
Article continues below advertisement
Revenue estimates
Analysts are estimating a 6% decline in revenues YoY (year-over-year) for Barrick Gold (ABX) in 2016. This is mainly due to its lower production due to asset sales. Its production profile is also in decline for 2018 and onward, which explains the lower revenue estimates.
Goldcorp's (GG) revenue estimates also imply a decline of 14% YoY in 2016. This is mainly due to the company's guidance cut for production and weaker production year-to-date.
Analysts expect Yamana Gold's (AUY) revenues to increase 5%, 10%, and 11% in 2016, 2017, and 2018, respectively. While Kinross Gold's (KGC) revenues are estimated to increase by an impressive 14% in 2016, the company is projected to see 1% and -3% growth for 2017 and 2018, respectively.
Kinross Gold's recent acquisitions have improved its 2016 production profile, but its organic growth could be weak until the Tasiast Expansion project comes online.
EBITDA margin forecasts
Across the board, EBITDA[1. earnings before interest, tax, depreciation, and amortization] margin forecasts for miners are higher for 2016 compared to 2015. This is due to higher gold (GLD) price estimates for 2016. Margin estimates for Barrick Gold are the highest among senior gold miners due to its lower cash costs— the company has some of the best assets in the industry.
Barrick Gold's estimated EBITDA margin for 2016 is 48%, followed by Goldcorp with a margin estimate of 40.5%. Yamana Gold has an EBITDA margin estimate of 38.4%, and Newmont Mining (NEM) has an estimate of 39%. Kinross Gold has the lowest margin estimate of 33.7% due to its higher costs.