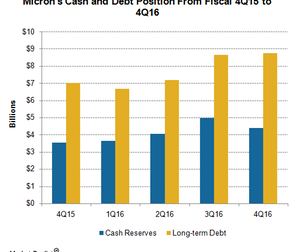 What's Really Driving Micron's Debt Levels at Such an Alarming Rate?
By Puja Tayal

Updated
Why are Micron's debt levels higher than peers?
In this series, we've discussed how Micron Technology (MU) is behind Samsung (SSNLF), SK Hynix, and Toshiba (TOSBF), given its higher production costs. To reduce costs and make itself competitive, Micron is investing heavily in 20 nm (nanometer) and 1X nm DRAM (dynamic random access memory) as well as in 3D NAND.
But unlike Samsung and Toshiba, which have businesses other than memory, Micron is a pure-play memory manufacturer. Hence, Micron's earnings are more cyclical than its peers. This hasn't kept Micron from investing in advanced technology, however—even in tough times—and now the company's debt is reaching an alarming level.
Article continues below advertisement
Cash-debt position
As of September 1, 2016, Micron's long-term debt stood at ~$8.8 billion as against its cash reserve of $4.4 billion. The company's debt-to-equity ratio stood at 82%—way above rival Intel's (INTC) ratio of 39%.
Micron is now acquiring Inotera, for which it will be raising more than $2.5 billion in new debt, increasing its long-term debt to $11.3 billion. However, one good thing is that Inotera has a low debt-to-equity ratio of 12%, and so the merger would act as a deleveraging agent and reduce the combined company's debt-to-equity ratio to 79%.
Not only would the merger reduce Micron's leverage, the increased revenues and profits from Inotera will likely improve Micron's debt repayment capability and reduce the risk of default. This would help Micron get a better credit rating, which it could then use to restructure its debt.
Micron is now paying 7.5% interest on its debt, which could be replaced with lower interest debt. Notably, Advanced Micro Devices (AMD) recently restructured its debt in a similar manner.
Cash flows
In fiscal 4Q16, Micron earned $896 million in operating cash flow and spent ~$1.7 billion on capital expenditure after deducting partner contributions. (Micron develops technology in a partnership where the cost and profits are shared by both partners.)
For fiscal 2017, Micron plans to spend around $5 billion on capital expenditure net of partner contributions. It plans to spend 40%–50% of that on DRAM, 30%–40% of it on NAND, and the remaining 15%–25% on technology and product enablement.
What's all this mean? It looks as if now, after a year of downturn and transition, Micron is expected to witness growth and profits in fiscal 2017—provided that market forces continue to move in its favor.