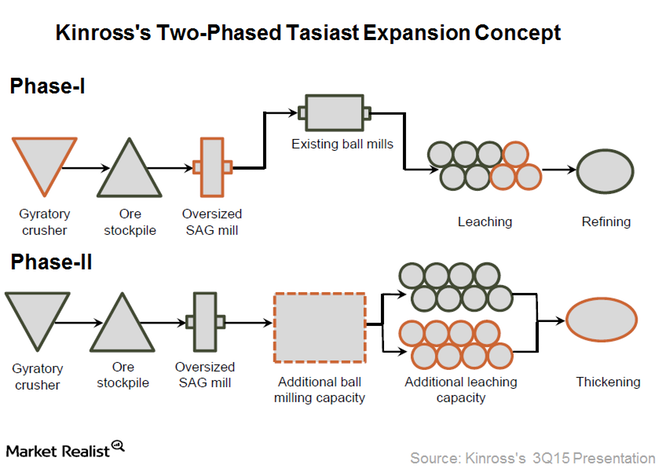 What Could Drive Long-Term Production Growth for Kinross Gold?
Bald Mountain and Round Mountain
Kinross Gold's (KGC) management sounded confident during the company's 3Q16 earnings call about realizing Bald Mountain's full potential. Management is focusing on doubling the mineral reserve estimates from this mine by the end of 1Q17.
Round Mountain is also progressing according to plan. Phase W is advancing on schedule with infill, geotechnical, and metallurgical drilling. The company is expecting to complete the feasibility study for the extension of this mine by 3Q17.
Article continues below advertisement
Tasiast expansion
The Tasiast expansion is one of Kinross Gold's most important projects. Not only will it increase the company's production profile significantly, it will also contribute to lowering its cost structure. Management maintained during the earnings call that the phase one expansion at Tasiast is progressing well. It expects to reach full production by 2Q18.
Production growth
The phase one expansion at Tasiast is expected to increase mill throughput capacity from 8,000 to 12,000 tons per day. It will also significantly reduce operating costs and increase production for Tasiast. While Kinross could face a falling production profile over the medium term, the Tasiast phase one expansion is an opportunity to replace its falling production.
Investors should recall that Kinross decided to do the Tasiast expansion in two phases in order to lower the risk. The feasibility study of phase two is currently underway. The second phase, which is expected to increase throughput to 30,000 tons per day, would entail a further investment of $620.0 million. The company is expected to make the decision on phase two by the end of 2017.
Kinross Gold's peers (RING) such as Barrick Gold (ABX), Goldcorp (GG), Agnico-Eagle Mines (AEM), and Newmont Mining (NEM) have better project pipelines than Kinross Gold.