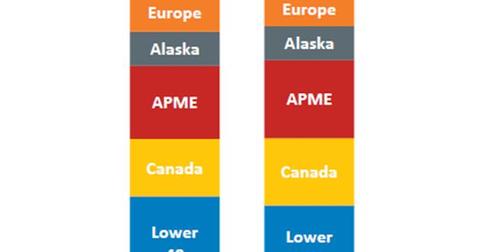 ConocoPhillips's 2017 Production Guidance and Strategies
By Nicholas Chapman

Updated
ConocoPhillips's 2016 production guidance from all assets
At the time of its 3Q16 earnings release, ConocoPhillips (COP) increased its fiscal 2016 production guidance from all assets to a range of 1,560–1,570 Mboe (thousand barrels of oil equivalent) per day. This range was a midpoint of increase of ~10 Mboe per day (or ~1%) from its previous guidance of ~1,555 Mboe per day.
The increased production guidance can be attributed to the strong year-to-date performance across the continental United States, Europe, and Asia-Pacific.
When adjusted for the full-year impact of its 2016 expected dispositions, but excluding adjustments for expected 2017 dispositions, ConocoPhillips's 2016 production should range from 1,535–1,540 Mboe per day.
Article continues below advertisement
ConocoPhillips's 2017 production guidance
In order to reduce its debt, ConocoPhillips (COP) is planning to sell $5 billion–$8 billion of assets over the next two years. ConocoPhillips's asset sale program involves targeting assets that are in the active A&D (acquisition and divestiture) market. As these assets are high-quality assets, they should affect COP's future production in 2017 and beyond.
For 2017, ConocoPhillips expects its full-year production to range from 1,540–1,570 Mboe per day, which could result in a growth of 0%–2% when compared with the disposition of adjusted fiscal 2016 estimated production. ConocoPhillips's production guidance excludes Libya.
ConocoPhillips's 2017 production strategies
ConocoPhillips's (COP) 2017 production growth is expected to come primarily from the ramp-up at APLNG in Australia, Surmont 2 in Canada, and Kebabangan in Malaysia. This production growth, as well as increased activity in the Lower 48 unconventionals, was partly offset by the normal field decline.
In 2017, ConocoPhillips plans to exit its deepwater Gulf of Mexico and Nova Scotia drilling obligations.