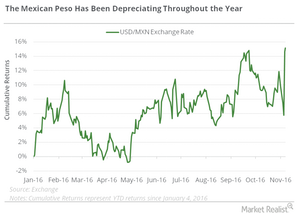 Trump's Win Sends the Mexican Peso Reeling
By Surbhi Jain

Nov. 22 2019, Updated 6:13 a.m. ET
Trump's win sends the Mexican peso reeling
Donald Trump's win in the 2016 US (SPY) (IVV) presidential election wasn't good news for Mexico (EWW). The Mexican peso fell more than 10% on November 9, 2016, on news of a Trump victory. 
From ~18.3 US dollars to pesos, the currency fell to 20.7 dollars to pesos by noon on November 9—a 13% fall during the trading day.
The peso has shown a high negative correlation with a potential Republican win over the past few months. The peso has dipped every time Trump has gained ground over Democrat Hillary Clinton, and it has recovered every time Clinton has moved ahead of Trump.
Article continues below advertisement
Would a rate hike provide support?
On a year-to-date basis, the peso has fallen 16.2%, from ~17.2 dollars to pesos on January 1 to 20 dollars to pesos on November 9, 2016. The Mexican currency has largely followed a depreciating trend against the US dollar (UUP) throughout the year, despite the central bank's measures at cushioning its fall. 
The bank has been gradually raising interest rates throughout the year. Where interest rates in Mexico stood at a 3.3% at the beginning of the year, they're now 4.8%. Neil Shearing, chief emerging markets economist at Capital Economics, expects the central bank of Mexico to raise rates by another 1%–2%.
Cheaper currency: good or bad?
While a cheaper currency may benefit exports, the additional tariffs expected to be placed on them as a result of renegotiated trade deals would result in a zero-sum gain. On the other hand, it would make imports more expensive, adding fuel to the rising inflation rate in Mexico's economy (ILF).