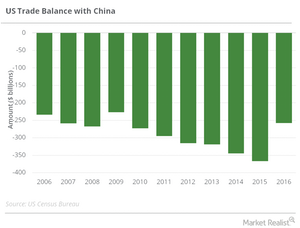 How a Donald Trump Win Could Impact China
By Surbhi Jain

Updated
Job theft concerns Donald Trump
Job theft is one of the repeated concerns expressed by the Republican presidential candidate, Donald Trump, during his campaign speeches. Trump believes that countries such as Mexico, China (FXI), India, and Singapore are responsible for job losses in the US (QQQ).
While addressing his supporters in Tampa, Florida, Trump said, "America has lost 70,000 factories since China entered the World Trade Organization—another Bill and Hillary-backed disaster….We are living through the greatest jobs theft in the history of the world."
Article continues below advertisement
Would weakening trade links with China help?
According to Trump, the substantial number of exports that reach the US from China tends to hurt industries in the US. Trump stated that he intends to weaken trade links between China and the US, and that he would be likely to introduce trade policies against China (ASHR) (MCHI).
Gary Greenberg, head of emerging markets at Hermes Investment Management, believes that a Trump win could result in tariffs of 30%–40% on China's exports to the US. This would result in a significant negative impact on China's export revenue. Currently, the United States (SPY) (IWM) is China's top export destination, accounting for 18% of China's total exports.
Kevin Lai, the Hong Kong–based chief economist for Asia at Daiwa Capital Markets, believes additional tariffs could result in an 87% decrease in China's exports to the US by 87%. Lai also believes that additional tariffs could reduce China's GDP by 4.8% over time.