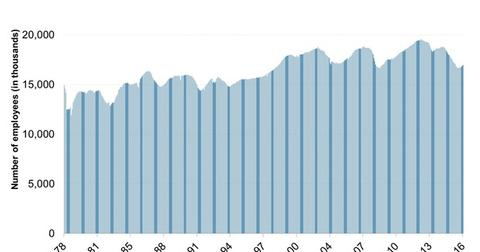 Is Donald Trump 'Manufacturing' Facts about US Manufacturing?
By David Ashworth

Updated
Misinformation about US manufacturing
370 economists have published a letter discouraging voters from voting for Donald Trump and have taken exception to the idea that he has been propagating about the state of US manufacturing (XLI) (IYJ). According to them, he has "misled" people in telling them that manufacturing activity in the country has declined.
These economists hold that "The location and product composition of manufacturing has changed, but the level of output has more than doubled in the U.S. since the 1980s."
Article continues below advertisement
Employment in manufacturing
Another aspect on which these economists disagree with Donald Trump is employment in the manufacturing sector. The graph above shows that the number of employees in manufacturing has fallen. This is what Donald Trump says as well.
However, the 370 economists who have signed the letter say that this argument is false. They say that "manufacturing's share of employment has been declining since the 1970s and is mostly related to automation, not trade."
They have also tried to discredit his claim that he wants to champion the cause of people formerly employed in the manufacturing sector on the grounds that he hasn't outlined any plan to help such workers move on to the service sector. They say that "Instead, he has diverted the policy discussion to options that ignore both the reality of technological progress and the benefits of international trade."
Appealing to emotion, not fact?
It seems that Donald Trump's arguments regarding US manufacturing are an attempt to emotionally appeal to voters who have lost jobs due to the changing dynamics of the sector. However, his views lack credence due to the absence of any concrete plan to get the manufacturing sector going the way he sees it. For now, he seems happy with pointing out the shortcomings without providing a solution.
Manufacturing has been a sore spot for the US economy, and apart from the XLI, it also impacts the SPDR Dow Jones Industrial Average ETF (DIA) and the SPDR Utilities Select Sector Fund (XLU). Stocks of companies such as 3M (MMM), Boeing (BA), and United Technologies (UTX), which are common holdings among industrial-focused ETFs (XLI) (DIA), are directly attached to the fortunes of the sector.
The 370 economists have also taken exception to Donald Trump's ideas regarding fiscal and primary deficits. Let's look at those arguments in the next article.