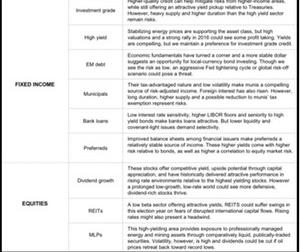 Are Dividend Growers a Better Option Than Dividend Payers?
By Terry Simpson

Updated
Dividend growers
We think it is a good time for dividend-focused investors to divide stocks into dividend payers and dividend growers and balance out dividend portfolios. Dividend-paying stocks have performed strongly in a low-rate environment, but we believe they could suffer as rates rise.
In contrast, dividend growers have tended to outperform in a rising rate environment and typically have more stable payout ratios. These stocks generally offer competitive yield and upside potential through capital appreciation, and they have historically delivered attractive performance in rising rate environments relative to the highest yielding stocks. A prolonged low-growth, the low-rate world could certainly see more defensive, divided-rich stocks thrive, but dividend growers do currently offer more attractive valuations.
Article continues below advertisement
Bottom line
It's important to remember that all higher-yielding assets come with higher risks, but some of these risks appear more worth taking now. See the chart below for more on the opportunities and potential pitfalls we see for income investors today.
Market Realist – Are dividend growers a good option?
In her presentation, "The Challenges of Today's Interest Rate Environment," Savita Subramanian, head of US equity strategy for Merrill Lynch, noted that dividend-growing stocks are a better option than dividend-paying stocks in the current low-rate environment.
With a gradual increase in interest rates, dividend-growing companies have room to grow and can offer a higher yield with higher income. On the other hand, dividend-paying companies have no room for growth. Dividend growers (HDV) are quality companies with enough free cash flow to pay a stable dividend (DVY) in times of market volatility and can also increase dividends substantially over time.
The chart below shows how dividend growers have outperformed the S&P 500 (SPY) (IVV), providing a higher income.
In a low-interest rate environment, income investors need to be ready to take on high risk to attain a higher yield from their investments. Higher yield cannot be equated with low risk. Please refer to the above chart by BlackRock, which points out various investment opportunities and pitfalls in the equity and fixed income market space in the current economic environment.