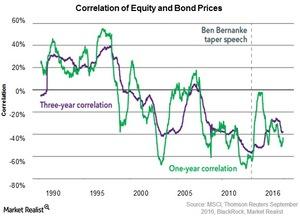 Is Diversification with Stocks and Bonds Still an Option for Investors?
By Terry Simpson

Updated
Asset classes
Still, some popular high-yielding asset classes (such as traditional dividend-paying stocks and REITs) could potentially suffer as rates begin to slowly trend higher.
What does this mean for investors? Thoughtful diversification is the key when it comes to the hunt for yield as 2016 draws to a close. Our colleague Matt Tucker's recent post echoed the same sentiment. We particularly like these three ways to seek income now.
Article continues below advertisement
Market Realist – How could equity markets be affected?
Historically, stock prices and bond prices (AGG) (TLT) have had an inverse relationship. However, the trend has since changed. An analysis by BlackRock revealed that the inverse relationship between stock and bond prices has changed so that the trend looks more synchronized.
The chart above shows one-year and three-year correlations of daily returns of stock and bond indexes for 1990–2016. The stock index is represented by the MSCI World Equity Index, and the bond index is represented by the Datastream US 10-year Benchmark Government Bond Index. Thus, any increase in long-term yields could affect stock prices, especially the dividend-paying stocks.
With stock (IWD) (IWF) and bond prices (BND) moving together, it makes it even more difficult for investors to diversify their portfolios. After the global economic crisis, interest rates in most economies around the globe has remained low.
For investors who wish to hunt for yields in the fixed income space, there are three choices that look fruitful at the moment. Let's look at them next.