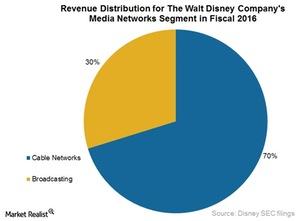 Could Disney Be Interested in Acquiring Netflix or Twitter?
By Shirley Pelts

Updated
Disney's interest in Twitter and Netflix
In September this year, it was rumored that The Walt Disney Company (DIS) could be interested in Twitter (TWTR). Commenting on how Twitter's acquisition could benefit Disney, Paul Sweeney, an intelligence analyst with Bloomberg, stated that "Twitter may give them an opportunity to communicate directly with their customers in an increasingly fragmented media landscape."
Later this year, Disney was also rumored to be interested in Netflix (NFLX). Disney was asked at the company's fiscal 2016 earnings call what it was looking for in these potential acquisitions.
Article continues below advertisement
Bob Iger, chair and CEO, refused to explain the reason behind Disney's proposed interest in these companies but stated, "But we think there are some really interesting opportunities to — given what's going on from a technological perspective — to both improve our businesses and also to improve the consumer experience by selling directly to consumers. I mentioned that earlier. And we're considering and exploring various ways to accomplish this. We think it's something that's important for us to do."
Why Twitter could be valuable for Disney
By acquiring Twitter, Disney would get access to a new avenue for its studio entertainment, ESPN sports, and ABC News businesses. ESPN is part of Disney's Cable Networks business, which made up 70% of Disney's Media Networks segment's revenues of $23.7 billion in fiscal 2016. Disney also partnered with Facebook (FB) to stream the Republican and Democratic national conventions live through the Facebook Live feature. As part of this agreement, Facebook provided ABC News with "exclusive, real-time data" that could be used across Disney's "broadcast and digital platforms."