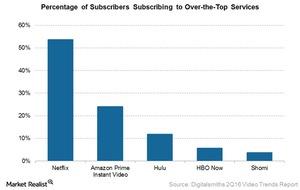 Why Has Disney Entered into a Licensing Agreement with Hulu?
By Shirley Pelts

Updated
Disney's agreement with Hulu
The Walt Disney Company (DIS) continues to make its content available on streaming platforms such as Hulu. Disney is an equal stakeholder in Hulu, along with 21st Century Fox (FOXA) and Comcast (CMCSA). Earlier this year, Time Warner (TWX) bought a 10% stake in Hulu. According to a Variety report from November 1, Hulu entered into a content licensing agreement with 21st Century Fox and Disney for around 35 television networks, including Disney's ESPN. The content will be available on Hulu's online television service.
Article continues below advertisement
Hulu plans to launch an online television service in 1Q17. As viewers, particularly Millennials, increasingly prefer to watch content online, Disney is trying to take advantage of this trend. In an earlier earnings call, Disney stated that it believes its significant intellectual property gives it an opportunity to offer a direct-to-consumer product. For Disney, it's still not an easy decision to go direct-to-consumer. It must make the technological arrangements as well as consider its content distribution agreements with its current distributors.
Rising trend of online television services
As the popularity of streaming services such as Netflix (NFLX) grows, viewers are watching more and more content online. It is cheaper to watch content online—for a viewer, a cable bill could be around $100 or more each month, while a basic plan for Netflix costs only around $8 each month.
According to a Digitalsmiths 2Q16 video trends report, and as the chart above shows, Netflix leads the OTT (over-the-top) market with a share of around 54%, followed by Amazon (AMZN) with a 24% market share. Hulu, Time Warner's (TWX) HBO Now, and Shomi are smaller players in this market. However, with Hulu's proposed online television service, the streaming market could be set for an upheaval.