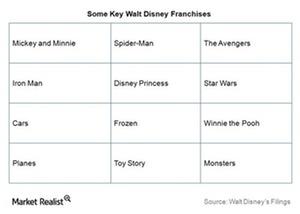 Why Disney Considers Studio Entertainment a Core Growth Driver
Disney's Studio Entertainment
In fiscal 2016, Star Wars: The Force Awakens was the Walt Disney Company's (DIS) third-highest grossing movie of all time, bringing in $2.0 billion at the global box office. Disney's Star Wars: Rogue One will release in December 2016. Two other movies from the Star Wars franchise will release in 2017 and 2018, respectively.
Disney's four movies—Star Wars: The Force Awakens, Captain America: Civil War, Finding Dory, and Zootopia—collectively brought in more than $1.0 billion at the global box office in fiscal 2016.
Article continues below advertisement
The company continues to expect its Studio Entertainment business to be a strong growth driver in fiscal 2018 due to a robust movie slate. However, it expects Studio Entertainment's fiscal performance in fiscal 2017 to face a difficult comparison with fiscal 2016 due to the strong performance of Star Wars: The Force Awakens.
Studio Entertainment's performance in fiscal 4Q16
In fiscal 4Q16, Disney's Studio Entertainment segment had revenues of $1.8 billion, a rise of 2.0% year-over-year. The segment's operating income fell $149.0 million to $381.0 million in fiscal 4Q16. The fall in operating income was a result of lower theatrical distribution revenues for Disney's Pete's Dragon and Queen of Katwe.
In its fiscal 3Q16 earnings call, Disney stated that since its acquisition of Pixar in 2006, it has released 29 movies under the Pixar, Marvel, Disney Animation, and Lucasfilm brands. All these movies have earned an average of $800.0 million at the global box office. The company said that the success of these movies means that the company will be able to generate more value from them through consumer products, television, parks, and resorts.
Disney acquired Marvel in 2009 and Pixar in 2006. Since the acquisitions, the company has managed the profitability and quality of these two assets. In fiscal 2013, Disney acquired Lucasfilm for $4.1 billion, another win for the company, given the success of the Star Wars franchise.