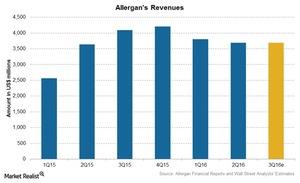 Could Allergan's Revenues Show Growth in 3Q16?
Allergan's 3Q16 revenue estimates
As we discussed earlier, analysts estimate that Allergan's (AGN) revenues will be ~$3.7 billion for 3Q16, a 9.7% decline in revenues compared to 3Q15. Factors such as the loss of exclusivity of Namenda IR could impact the company's growth in 3Q16.
The above graph shows the revenues of Allergan (AGN) in each quarter. The major portion of revenues for Allergan are through sales in the US markets. The company has reclassified its operations into three business segments: US General Medicine, US Specialized Therapeutics, and International Business.
Article continues below advertisement
As we discussed earlier, the company has completed the divestiture of its Global Generics business and announced the divestiture of its ANDA Distribution business to Teva Pharmaceuticals (TEVA) on August 2, 2016. These businesses are now reported as discontinued operations since Allergan's 2Q16 earnings release.
Revenue performance
Allergan's business is now classified into three segments. The estimates for 3Q16 for each of the segment follow:
The US Specialized Therapeutics segment includes the Eye Care, Medical Aesthetics, Medical Dermatology, and Neuroscience & Urology franchises. The revenues for US Specialized Therapeutics are estimated to increase in 3Q16, mainly driven by the strong performance of key products from the Medical Aesthetics franchise. These products include Botox, fillers, and a new product, Kybella, as well as the constant uptake of a few eye care products like Ozurdex and Restasis.
The US General Medicine segment includes Central Nervous System, Gastroenterology, Women's Health, Anti-Infectives, and Established Brands franchises. The revenues for the US General Medicine segment is expected to fall due to lower revenues of Namenda IR.
The revenues for the International segment is expected to have the impact of the divestiture of the Global Generics and International OTC Commercial units, excluding OTC Eye Care products to Teva Pharmaceuticals in August 2016. Excluding the impact of acquisitions and divestitures, the segment is expected to report operational growth due to increased sales of Botox, fillers, and eye care products.
Investors can consider the Fidelity MSCI Healthcare ETF (FHLC), which holds ~2.3% of its total assets in Allergan, in order to divest the risk. Apart from Allergan, FHLC also holds 3.6% of its total assets in Amgen (AMGN), 5.3% in Merck (MRK), and 3.0% in Celgene (CELG).