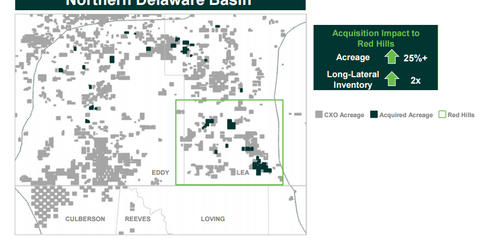 Another Acquisition for Concho: $430 Million for More Permian
By Keisha Bandz

Updated
Concho Resources announced an acquisition in the Delaware Basin
On November 21, 2016, Concho Resources (CXO) announced that it has entered into an agreement to acquire approximately 24,000 gross acres, or 16,400 net acres, in the Northern Delaware Basin. It will pay ~$430.0 million to an undisclosed seller.
Approximately 12,000 gross acres, or 10,000 net acres, are located in the Red Hills area of the Northern Delaware Basin. The basin forms part of the larger prolific Permian Basin.
CXO noted that this acquisition will be complementary to its existing leasehold in the Northern Delaware Basin.
Article continues below advertisement
How CXO could benefit
The acquired acreage has a production capacity of approximately 2.5 Mboepd (thousand barrels of oil equivalent per day) weighted 69.0% toward oil.
A CXO press release noted that the acquisition expands the company's position more than 25.0% in the Red Hills area, to ~47,000 net acres.
The acquisition is also expected to double the company's long-lateral drilling inventory in the Red Hills.
CXO's press release stated, "The Red Hills area is an oil-prone fairway generating exceptional returns at current commodity prices. With more than 5,000 feet of resource-rich hydrocarbon column, this area is highly prospective for multi-zone development."
Concho will pay $150.0 million in cash and trade ~2.2 million shares of its common stock as part of the transaction, which it expects to close in January 2017.
Tim Leach, CXO's chief executive officer, commented in the same press release, "This transaction is an opportunistic bolt-on in the Red Hills area where we are consistently delivering strong well performance. Our evaluation provides for multiple opportunities to enhance value through increased density development on multi-well pads as well as additional zones beyond the Avalon Shale, Wolfcamp Shale and the emerging Wolfcamp Sands."