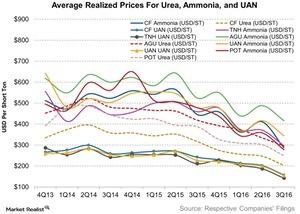 Nitrogen Fertilizer Prices in 3Q16 Offset Shipment Growth
By Adam Jones

Nov. 28 2016, Updated 8:05 a.m. ET
Nitrogen products
Earlier in this series, we looked at the shipment growths for nitrogen producers (XLB). Now, we'll look at their average realized prices, which are critical to driving revenue and have been falling over the past few quarters. Ammonia, UAN (urea ammonium nitrate), and urea are some of the key nitrogen fertilizers sold by major nitrogen producers globally.
Article continues below advertisement
Ammonia prices
In 3Q16, the median price of ammonia, which is further upgraded to urea and UAN, for the five producers in the chart above fell by an average of 35%. Of these producers, PotashCorp (POT) saw its ammonia price fall the most by 42% to $278 per short ton, followed by CF Industries (CF), which saw it fall by 36% to $287 per short ton.
Terra Nitrogen's (TNH) ammonia price also fell 35% to $297 per short ton YoY (year-over-year). Agrium's (AGU) average ammonia price fell by 28% to $345 per ton, while CVR Partners (UAN) also fell 21% to $345 per ton YoY.
Urea prices
Median prices of urea, which is the most applied nitrogen fertilizer globally, fell 36% for the above producers. CF Industries' urea price fell 36% to $203 per ton, PotashCorp's urea price fell 35.8% to $249 per ton, and Agrium's urea price fell 29% to $297 per ton year-over-year.
UAN prices
Similar to ammonia and urea prices, UAN prices also fell by a median of 33% during 3Q16 compared to the corresponding quarter a year ago. CF's UAN price fell 35% to $157 per short ton. Terra Nitrogen and CVR Partners both saw their average realized prices fall by 33% to $142 per short ton and by 32% to $154 per short ton, respectively.
Nitrogen prices continue their downward slide due to overcapacity in the global markets along with delays in fertilizer purchasing.
Next, let's look at nitrogen's gross margin.