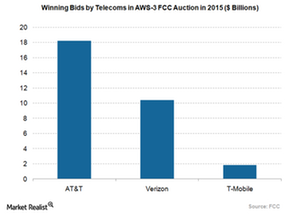 What Is Comcast's Opinion about 5G?
By Shirley Pelts

Dec. 4 2020, Updated 10:53 a.m. ET
Comcast on 5G
In the telecom world, 5G (fifth-generation) is generating a lot of hype, as it could provide 10x–100x faster wireless speeds than 4G.
Comcast (CMCSA) was asked about its opinion regarding 5G at the company's fiscal 3Q16 earnings call. Comcast's management stated that "Concerning 5G, I think it's in the early days. It will be an exciting evolution of the wireless standards. There are limitations to it, such as propagation and the antennas it'll need to meet power and backhaul and we think that with these thousands of endpoints in the cities, in the city, you need space, power and a field force to enable the high bandwidth mobile connections. So we think we have a great set of assets that can bring significant value to the equation." Other companies that are enthusiastic about 5G include AT&T (T) and Verizon Communications (VZ).
Article continues below advertisement
AT&T on 5G
AT&T's proposed acquisition of Time Warner (TWX) will help it to lower its capex investments, as minimal capex requirements for Time Warner would balance AT&T's higher capex needs. As a result, AT&T could have more resources to invest in 5G technology.
AT&T is enthusiastic about the future of 5G technology, as it should improve data speeds. It should also improve capacity and latency relative to the current 4G (fourth generation) LTE (long-term evolution) path by aggregating the spectrum into larger blocks and taking advantage of new antenna technology. AT&T continues to try new wireless technologies including 5G. AT&T is working on its 5G initiative with Nokia (NOK), Ericsson (ERIC), Intel (INTC), and Samsung.
AT&T has been an aggressive player in the 5G market. Even in the past, it has tried to outbid its rivals in order to gain spectrum advantage. AT&T was the highest bidder during the AWS-3 spectrum auctions in early 2015, purchasing spectrum worth $18.2 billion. The AWS-3 spectrum auction was the major auction conducted by the Federal Communications Commission after 2008.
As shown in the graph above, Verizon Communications (VZ) and T-Mobile (TMUS) also participated in that auction, making winning bids of $10.4 billion and $1.8 billion, respectively.