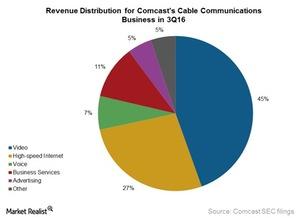 Why Comcast Is Optimistic about Its Xfinity Home Security Business
By Shirley Pelts

Dec. 1 2016, Updated 11:04 a.m. ET
Comcast's Xfinity home business
Comcast's (CMCSA) Xfinity Home is a security service aimed at residential customers. Comcast's Xfinity Home is a part of Comcast's Other revenues and was launched about four years ago. Comcast stated at the Nomura Media, Telecom & Internet Conference in August this year that its Xfinity Home service is experiencing rapid growth, as it is cheaper than a "traditional home security system."
Early this year, Comcast stated that its home security business had surpassed 500,000 subscribers and that it expects this business to grow further. Comcast stated at the company's fiscal 3Q16 earnings call that around 55% of Xfinity Home's customers are also Comcast's customers for the first time. As a result, Comcast views its Xfinity Home business as a way of attracting new customers and building new customer relationships. Comcast also stated at its earnings call that around 60% of these new customers have quadruple play (the bundling of high-speed Internet, television, land line, and mobile service in one package).
Article continues below advertisement
Comcast also stated at the Nomura Conference this year that its home security business was an industry worth around $9 billion. As the graph indicates, Comcast's Xfinity Home security service revenues are a part of Comcast's Other revenues, which comprised 5% of Comcast's total revenues of $12.6 billion in fiscal 3Q16.
Comcast also stated: "There's a lot of things about our home security service that kind of extend beyond security through automation and to the Internet of Things. And there's no reason why a lot of the capabilities that are included in our home security service can't be passed on to your Internet service whether that's the ability to monitor video 24 hours a day, whether that's healthcare or energy management applications."
About home security
According to a MarketsandMarkets report, the home security solutions market is expected to be worth $47.5 billion by 2020 and to grow at a CAGR (compounded annual growth rate) of 8.7% between 2015 and 2020.