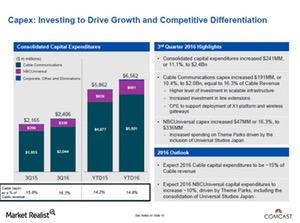 Does Comcast Expect Capex to Rise for Comcast Cable?
By Shirley Pelts

Dec. 4 2020, Updated 10:53 a.m. ET
Comcast continues to expect a rise in capex
Comcast (CMCSA) expects capex as a percentage of revenues to continue to be flat at 15% for Comcast Cable in 2016, which means it expects absolute capex to increase. The rollout of CPE relating to the X1 set-top box largely drove capex for Comcast Cable in fiscal 3Q16. The company expects its X1 set-top box penetration to be 50% by the end of this year. However, Comcast also stated that a key factor driving the rise in capex has been its "investment in scalable infrastructure" to enable the company to differentiate itself from its competitors in the broadband business.
For Comcast's NBCUniversal business, it expects capex to increase 10%. The company plans to continue to invest in its theme parks and in the consolidation of Universal Studios Japan (EWJ).
Article continues below advertisement
The company was asked at its fiscal 3Q16 earnings call about the optimal level of infrastructure investment for Comcast Cable. The company stated that as the industry moves towards IP-based (Internet Protocol) video consumption, it will continue to roll out wireless gateways with faster speeds. Comcast has already rolled out XB6 and is also set to roll out the Xi5 and Xi6 Gateway.
Comcast also stated that when it comes to its business services segment at Comcast Cable, the company will continue to invest in its network capacity.
Comcast capex in fiscal 3Q16
Comcast recorded total capex of $2.4 billion in fiscal 3Q16, up 11.1% year-over-year. Comcast Cable recorded capex of $2 billion in fiscal 3Q16, up 10.4% over fiscal 3Q15. This growth was mainly driven by the rollout of CPE for its X1 platform.
Comcast's NBCUniversal capex was $336 million in fiscal 3Q16, up 16.3% year-over-year. This rise in capex was driven by the addition of new attractions at its theme parks and consolidation of its stake in Universal Studios Japan (EWJ).