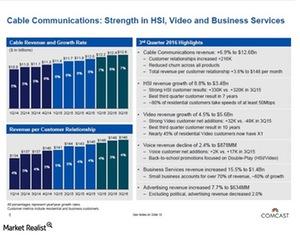 Why Comcast Expects Continued Growth for Business Services Segment
By Shirley Pelts

Updated
Comcast Business Services
Comcast's (CMCSA) Business Services segment is becoming a core revenue growth driver for the company. Comcast's Business Services segment has three growth engines: small business, mid-sized business, and enterprise. In fiscal 3Q16, the mid-sized and small business segments continued to be strong growth engines for the Business Services segment.
Comcast stated at its fiscal 3Q16 earnings call that in fiscal 2015, business services contributed growth in revenues of $280 million. Comcast expects that this segment will contribute growth in revenues around the same level. The company also stated that it is a "$5 billion run rate business now."
Article continues below advertisement
Business Services not expected to drive up capex
Comcast also said that growth of its Enterprise Business is not likely to mean higher capex for the company. Comcast explained, "It's early to tell, but we think of them like a central office with a lot of branch offices, which would be like small businesses. And we know how to do the small business market very effectively and so I don't think you'll see a higher degree of capital intensity. We are doing hyperbuilds now where we go in – we used to go into an industrial park and we had to sign up the customers before we pulled the fiber in. Whereas now we know in these industrial parks we're going to get the customers."
For business services that provide service to medium-sized businesses, Comcast expects its market penetration to exceed 10%. It believes it has a good Ethernet network services product and that its strong sales team should help it to further penetrate the business services market.