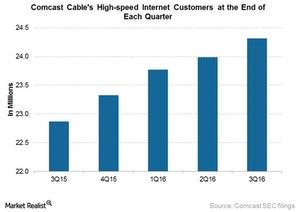 How Could Change in Net Neutrality Rules Benefit Comcast and AT&T?
By Shirley Pelts

Updated
Net neutrality and Comcast
In the previous part of this series, we looked at net neutrality rules and the possibility of a rollback in net neutrality. In this part of the series, we'll look at how a change in net neutrality rules could affect pay-TV companies like Comcast (CMCSA) and Dish Network (DISH).
The classification of broadband as a utility service in Title II of the Communications Act has meant that broadband providers like Comcast and AT&T (T) cannot block, slow down, or even speed up Internet traffic for any legal applications, devices, content, or services. According to Comcast, the net neutrality regulations could adversely affect its high-speed Internet business, as it could result in streaming services like Netflix (NFLX) filing claims for blockage of its Internet traffic across Comcast's network. In 2014, Netflix was involved in a dispute with Comcast over interconnection fees.
Article continues below advertisement
Change in net neutrality rules and Comcast
A rollback in net neutrality rules under Trump could bode well for Comcast. It could mean that Comcast would not have to worry about third-party claims from streaming services like Netflix for damages for slowing down Internet traffic over its networks. It could also result in Comcast promoting its IP-based streaming service, Stream, over other streaming services over its broadband network. There is also the possibility that Comcast could charge a higher interconnection fee to Netflix, which in turn could help Comcast earn more revenues.
A core growth driver of Comcast's Cable Communications division in 3Q16 was its High-Speed Internet segment. Comcast's management is optimistic about the growth trajectory of this business.
As the chart above shows, Comcast had 24.3 million high-speed Internet customers at the end of fiscal 3Q16. According to Comcast, over the last 15 years, the company has increased its Internet speeds 17 times. Around 80% of Comcast's residential customers have opted for speeds of 50 Mbps (megabits per second) or higher, and the company has 15 million Wi-Fi hotspots that customers can access in the United States. These factors have differentiated the company from its competitors and increased customer retention for Comcast.