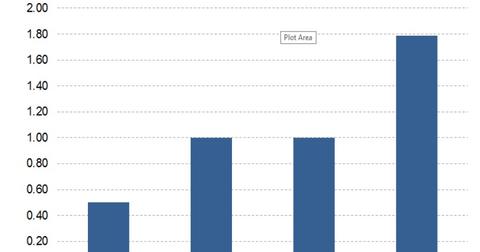 Can IBM's Letter Persuade Trump to Soften on Tech Companies?
By Ruchi Gupta

Nov. 18 2016, Updated 8:05 a.m. ET
IBM's CEO offers proposal for job creation
International Business Machines' (IBM) CEO (chief executive officer) Ginni Rometty has written an open letter to president-elect Donald Trump, offering advice on job creation and other issues on healthcare and infrastructure. The question is whether the letter will cause Trump to be a little gentler on IBM and several others that he has rebuked for taking jobs outside the country. 
On the campaign trail, Trump publicly called out IBM, Ford (F), and Carrier for moving jobs to Mexico, India, and other countries, thus creating a shortage of employment opportunities in the United States. He also called out Apple (AAPL) and Amazon (AMZN).
The US unemployment rate fell to 4.9% in October 2016 from 5.0% in September. The country added 161,000 new jobs that month.
Article continues below advertisement
'New collar' jobs at IBM
In her letter, Rometty didn't directly address Trump's concern over job losses. She did let Trump know, however, that the potential still exists, even for large companies such as IBM, to continue hiring more people domestically. She wrote about "new collar" jobs, which she described as entirely new roles in areas such as data science, cybersecurity, and artificial intelligence. She said IBM was already creating jobs and hiring in this "new collar" area.
Rometty also seemed to assure the president-elect that IBM hasn't turned its back on less-educated Americans. She said in the letter that in some IBM centers across the United States, up to a third of the company's employees don't have college degrees.
Concern in Silicon Valley
Rometty's letter seems to echo the concern in Silicon Valley about a Trump presidency. Before the election, Tesla's (TSLA) CEO Elon Musk was particularly worried about Trump's position on climate change.
It remains to be seen if IBM's overtures to Trump through Rometty's letter could convince the President-elect to take a softer stance on the tech industry.