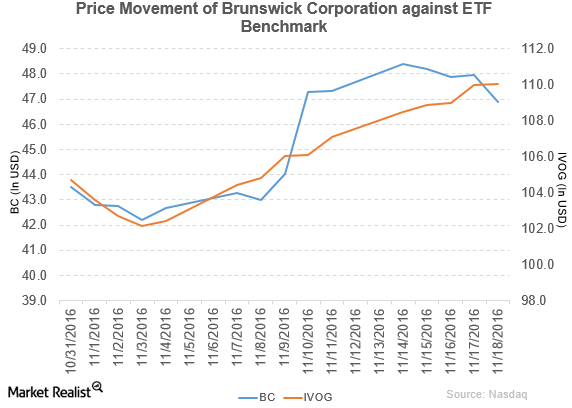 Brunswick Acquired Payne's Marine to Expand Its Presence in Canadian Markets
Price movement
Brunswick (BC) has a market cap of $4.3 billion and fell 2.2% to close at $46.9 per share on November 18, 2016. The stock's weekly, monthly, and YTD (year-to-date) price movements were –0.93%, -3.9%, and -6.2%, respectively, on the same day.
BC is now trading 3.2% above its 20-day moving average, 0.19% below its 50-day moving average, and 0.77% above its 200-day moving average.
Article continues below advertisement
Latest news on BC
In a press release on November 18, 2016, Brunswick reported the following: "Brunswick Corporation (BC) announced today it has acquired the assets of Payne's Marine Group of Victoria, British Columbia, a leading wholesale distributor of marine parts and accessories (P&A) in Canada. Terms of the transaction were not disclosed."
The report also stated: "Payne's Marine distribution will become part of Brunswick's global P&A distribution business, which is operated by Brunswick's Mercury Marine division, based in Fond du Lac, Wisconsin."
According to John C. Pfeifer, President of Mercury Marine, the company believes that "leveraging the unique expertise of each operation will lead not only to cost and revenue synergies but also will further accelerate our growth in the important Canadian marine market."
Article continues below advertisement
Brunswick's performance in fiscal 3Q16
Brunswick reported fiscal 3Q16 net sales of $1.1 billion—a rise of 10.2% over its net sales of $991.9 million in fiscal 3Q15. Sales from the Marine Engine, Boat, and Fitness segments rose 6.4%, 13.2%, and 20.3%, respectively, between fiscal 3Q15 and fiscal 3Q16. The company's operating margin narrowed by 50 basis points, and it reported restructuring and integration charges of $2.4 million in fiscal 3Q16.
Its net income and EPS (earnings per share) rose to $85.4 million and $0.93, respectively, in fiscal 3Q16, as compared to $75.9 million and $0.81, respectively, in fiscal 3Q15. It reported adjusted EPS of $0.91 in fiscal 3Q16, a YoY (year-over-year) rise of 18.2%.
Brunswick's cash and cash equivalents fell 33.5%, and its inventories rose 10.2% between fiscal 4Q15 and fiscal 3Q16. Its current ratio and debt-to-equity ratio fell to 1.9x and 1.3x, respectively, in fiscal 3Q16, as compared to 2.0x and 1.5x in fiscal 4Q15.
Quarterly dividend and projections
Brunswick has declared a quarterly dividend of $0.17 per share—a rise of 10% on its common stock. The dividend will be paid on December 15, 2016, to shareholders of record on November 22, 2016.
The company has made the following projections for fiscal 2016:
revenue growth rate of ~10%
adjusted EPS in the range of $3.45–$3.50
positive free cash flow of more than ~$215 million
Next, we'll look at Coty (COTY).